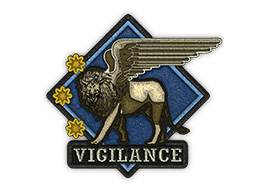 Description
The 'Patch | Vigilance' sticker is a testament to the watchful eyes of a gamer. This skin represents the player's alertness, a key skill in CS:GO and CS2. Always in high demand among traders and players, it consistently fetches a good price on the market. It's a symbol of a player's surveillance skill and can be proudly worn on any weapon.
Patch | Vigilance is a fairly liquid item. It should be easy to sell or exchange it. Traders rates this skin at 4.01/5.0.
Buy on CS.TRADE
Buy or trade for Patch | Vigilance agent patch listed below on CS.TRADE trade bot.