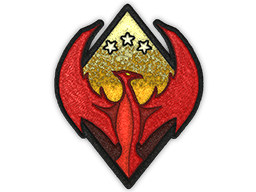 Description
The 'Patch | Phoenix' stands for the Phoenix Connexion, one of the most notorious factions in the Counter-Strike franchise. The patch was released during the Boston Major and has since then gained symbolic relevance among CS:GO and CS2 players and traders. The market price has seen a significant boost, especially post major tournaments, making it a valuable asset in the trading community.
Patch | Phoenix is a fairly liquid item. It should be easy to sell or exchange it. Traders rates this skin at 4.00/5.0.
Buy on CS.TRADE
Buy or trade for Patch | Phoenix agent patch listed below on CS.TRADE trade bot.