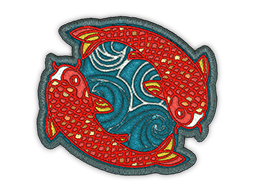 Description
The 'Patch | Koi' is a unique item for CS:GO and CS2 players that features a beautifully crafted Koi design, symbolizing perseverance and determination. This is a must-have item for traders looking to invest in distinctive and meaningful designs. The Koi motif is famous worldwide, and as such, this skin has seen consistent demand on the market since its release. Applying it to any weapon adds a touch of elegance and a unique flair to your inventory.
Patch | Koi is a fairly liquid item. It should be easy to sell or exchange it. Traders rates this skin at 4.01/5.0.
Buy on CS.TRADE
Buy or trade for Patch | Koi agent patch listed below on CS.TRADE trade bot.