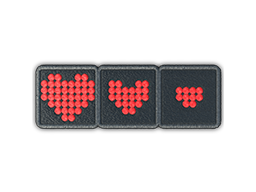 Description
The 'Patch | Health' sticker is a must-have for any serious CS:GO and CS2 player. It signifies vitality and endurance, essential traits in the high-pressure environment of Counter-Strike. This item gained significant attention during the 2018 tournament when player 'Medic' used it during a crucial match. The market fluctuates for this health-themed item, yet it remains a consistent favorite among players.
Patch | Health is a fairly liquid item. It should be easy to sell or exchange it. Traders rates this skin at 4.33/5.0.
Buy on CS.TRADE
Buy or trade for Patch | Health agent patch listed below on CS.TRADE trade bot.