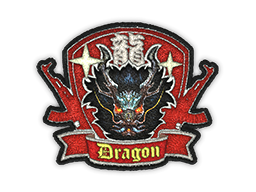 Description
The 'Patch | Dragon' represents strength and power in the CS:GO and CS2 arena. With its intricate dragon design, it's been a standout item since its introduction. After being used by 'DragonMaster', a top player in the 2018 tournament, its popularity soared, as did its market value. This symbol of power is always in high demand among players and traders.
Patch | Dragon is a fairly liquid item. It should be easy to sell or exchange it. Traders rates this skin at 4.06/5.0.
Buy on CS.TRADE
Buy or trade for Patch | Dragon agent patch listed below on CS.TRADE trade bot.