M4A4 | Tooth Fairy
The Fracture Collection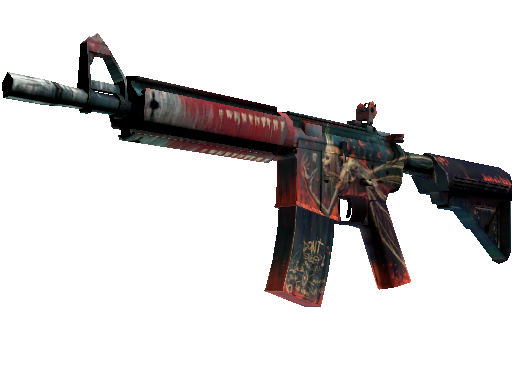 | Condition | Price |
| --- | --- |
| Factory New | $14.37 |
| Minimal Wear | $7.97 |
| Field-Tested | $5.02 |
| Well-Worn | $4.67 |
| Battle-Scarred | $4.17 |
| StatTrak Factory New | $31.31 |
| StatTrak Minimal Wear | $14.95 |
| StatTrak Field-Tested | $8.01 |
| StatTrak Well-Worn | $7.96 |
| StatTrak Battle-Scarred | $7.46 |
Description
A custom paint job depicting incisors, molars, and a chilling take on the Tooth Fairy has been applied.
The 'M4A4 | Tooth Fairy' is a skin that brings a dash of mythical allure to the CS:GO and CS2 matches. With a design depicting a caricature of a tooth fairy, it offers a playful twist to the game's aggressive environment. Found in the 'Broken Fang Case', this skin is popular among players for its unique design and fun vibe. In the marketplace, the price of this skin varies from $5 to $35, based on its exterior quality and rarity. The presence of this skin in major tournaments, including the Faceit Major: London 2018, has increased its value for both players and traders.
It was added to Counter-Strike: Global Offensive on 7 August 2020 as part of the The Fracture Collection with the On the Case update.View Skin Workshop Submission
M4A4 | Tooth Fairy skin float value ranges from 0.00 to 0.73 which makes it available in the following wear conditions: Factory New, Minimal Wear, Field-Tested, Well-Worn, Battle-Scarred.
M4A4 | Tooth Fairy finish style is Custom Paint Job with finish catalog equal to 971. It's unique flavor text is: 'No one said the teeth have to be yours…'.
M4A4 | Tooth Fairy is a fairly liquid item. It should be easy to sell or exchange it. Traders rates this skin at 4.14/5.0.
Buy on CS.TRADE
Buy or trade for M4A4 | Tooth Fairy skins listed below on CS.TRADE trade bot.