M4A4 | The Battlestar
The Wildfire Collection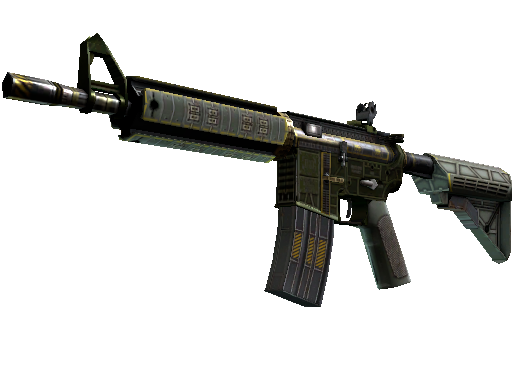 | Condition | Price |
| --- | --- |
| Factory New | $26.25 |
| Minimal Wear | $9.23 |
| Field-Tested | $5.46 |
| Well-Worn | $7.65 |
| Battle-Scarred | $5.69 |
| StatTrak Factory New | $81.3 |
| StatTrak Minimal Wear | $35.55 |
| StatTrak Field-Tested | $21.95 |
| StatTrak Well-Worn | $21.66 |
| StatTrak Battle-Scarred | $22.14 |
Description
All corners have been cut off the receipt of purchase.
The 'M4A4 | The Battlestar' is a sought-after skin in both CS:GO and CS2, belonging to the 'classified' rarity. This skin features a futuristic design, inspired by interstellar conflict, adding visual appeal for buyers and spectators. Released during the 'Operation Wildfire' in February 2016, its value has since seen an upward trend. It serves as a testament to the player's dedication, making this skin a mark of distinction. Furthermore, its average price on the market is consistently high, making it a wise investment for traders. Premium versions of this skin, with stickers from famous tournaments or players, are even more valuable. When it comes to tournaments, stickers of players who performed exceptionally during that period are typically popular.
It was added to Counter-Strike: Global Offensive on 18 February 2016 as part of the The Wildfire Collection with the Operation Wildfire update.View Skin Workshop Submission
M4A4 | The Battlestar skin float value ranges from 0.00 to 0.64 which makes it available in the following wear conditions: Factory New, Minimal Wear, Field-Tested, Well-Worn, Battle-Scarred.
M4A4 | The Battlestar finish style is Gunsmith with finish catalog equal to 533. It's unique flavor text is: 'Beware those who speak of the watchtower'.
M4A4 | The Battlestar is a fairly liquid item. It should be easy to sell or exchange it. Traders rates this skin at 4.26/5.0.
Buy on CS.TRADE
Buy or trade for M4A4 | The Battlestar skins listed below on CS.TRADE trade bot.