M4A4 | Neo-Noir
The Clutch Collection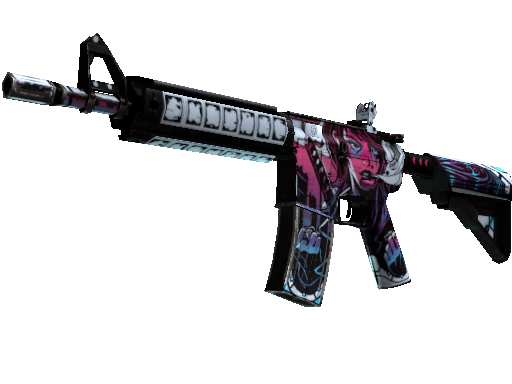 | Condition | Price |
| --- | --- |
| Factory New | $54.81 |
| Minimal Wear | $17.03 |
| Field-Tested | $7.35 |
| Well-Worn | $6.19 |
| Battle-Scarred | $5.47 |
| StatTrak Factory New | $141.68 |
| StatTrak Minimal Wear | $50.58 |
| StatTrak Field-Tested | $16.91 |
| StatTrak Well-Worn | $14.72 |
| StatTrak Battle-Scarred | $13.72 |
Description
It has been custom painted with a stylized blue-magenta woman over a grayscale background.
The 'M4A4 | Neo-Noir' is a skin for players who favor a darker aesthetic. Part of the 'Danger Zone Case', it showcases a sleek design inspired by neo-noir films. With a female silhouette against a city skyline, it brings a sense of mystery and intrigue to the game. Its popularity among players and traders alike is reflected in its market value, with a steady appreciation over time. This skin is particularly favored by players who excel in night missions, as it blends seamlessly into the darker environments. Its cinematic influences also add an element of narrative to gameplay.
It was added to Counter-Strike: Global Offensive on 16 February 2018 as part of the The Clutch Collection with the Welcome to the Clutch update.View Skin Workshop Submission
M4A4 | Neo-Noir skin float value ranges from 0.00 to 0.90 which makes it available in the following wear conditions: Factory New, Minimal Wear, Field-Tested, Well-Worn, Battle-Scarred.
M4A4 | Neo-Noir finish style is Custom Paint Job with finish catalog equal to 695. It's unique flavor text is: '"She grabbed what she could and disappeared into a decaying dystopia"'.
M4A4 | Neo-Noir is a fairly liquid item. It should be easy to sell or exchange it. Traders rates this skin at 4.55/5.0.
Buy on CS.TRADE
Buy or trade for M4A4 | Neo-Noir skins listed below on CS.TRADE trade bot.