M4A4 | Howl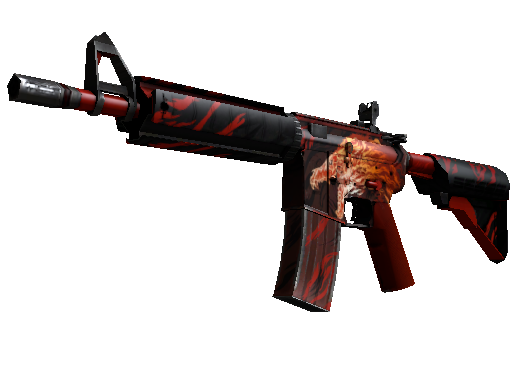 | Condition | Price |
| --- | --- |
| Factory New | $11221.91 |
| Minimal Wear | $7718.61 |
| Field-Tested | $6436.88 |
| Well-Worn | $5365.78 |
| StatTrak Factory New | $22876.71 |
| StatTrak Minimal Wear | $12413.88 |
| StatTrak Field-Tested | $10365.4 |
| StatTrak Well-Worn | $7789.87 |
Description
It has been custom painted with the image of a snarling wolf.
The 'M4A4 | Howl' is among the most coveted skins in 'CS:GO'. Part of the 'Arms Deal Collection', it features a fiery wolf design that's symbolic of the weapon's fierceness. Ever since it was turned into a contraband item due to copyright issues, its price has skyrocketed, making it a gem for traders. The skin's rich red tone and fierce design easily make it stand out in gameplay. Being one of the rarest skins in the game, owning an 'M4A4 | Howl' is considered a mark of prestige among players. Its price is a reflection of its rarity and desirability in the 'CS:GO' market.
It was added to Counter-Strike: Global Offensive on 1 May 2014 with the The Hunt Begins update. This skin was created by Valve.
M4A4 | Howl skin float value ranges from 0.00 to 0.40 which makes it available in the following wear conditions: Factory New, Minimal Wear, Field-Tested, Well-Worn.
M4A4 | Howl finish style is Custom Paint Job.
M4A4 | Howl is a fairly liquid item. It should be easy to sell or exchange it. Traders rates this skin at 4.61/5.0.
Buy on CS.TRADE
Buy or trade for M4A4 | Howl skins listed below on CS.TRADE trade bot.