M4A4 | Hellfire
The Operation Hydra Collection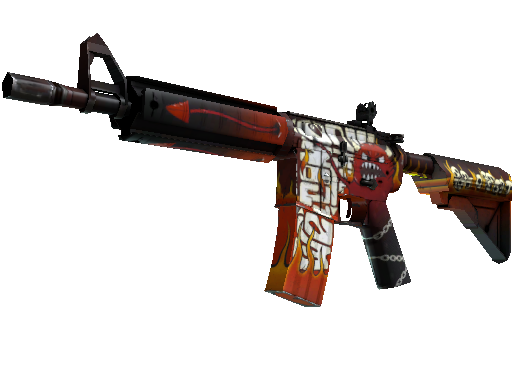 | Condition | Price |
| --- | --- |
| Factory New | $108.57 |
| Minimal Wear | $70.02 |
| Field-Tested | $61.3 |
| Well-Worn | $60.4 |
| Battle-Scarred | $61.24 |
| StatTrak Factory New | $220.02 |
| StatTrak Minimal Wear | $155.64 |
| StatTrak Field-Tested | $90.58 |
| StatTrak Well-Worn | $93.89 |
| StatTrak Battle-Scarred | $79.74 |
Description
A devil-like creature has been hand painted among fire and chains.
The 'M4A4 | Hellfire' is a highly coveted skin introduced during the Operation Hydra event in May 2017. Its fiery design mirrors the intensity of CS:GO battles and it's a favorite among professional and casual players alike. The skin features vibrant flames and a demonic face, signifying a player's aggressive playstyle. It's a Restricted rifle from the 'Hydra Case' and falls under the Covert category. The average market price fluctuates around $20-$40 in Factory New condition, and it's highly demanded in the trading market due to its low float value and stunning design. It is noted for its high performance in competitive matches, making it a popular choice among top-ranking players. This skin can be seen used by professionals during major tournaments, adding to its reputation in the CS:GO community.
It was added to Counter-Strike: Global Offensive on 24 May 2017 as part of the The Operation Hydra Collection with the Operation Hydra update.View Skin Workshop Submission
M4A4 | Hellfire skin float value ranges from 0.00 to 0.50 which makes it available in the following wear conditions: Factory New, Minimal Wear, Field-Tested, Well-Worn, Battle-Scarred.
M4A4 | Hellfire finish style is Custom Paint Job with finish catalog equal to 664. It's unique flavor text is: 'And brim pebbles'.
M4A4 | Hellfire is a fairly liquid item. It should be easy to sell or exchange it. Traders rates this skin at 4.59/5.0.
Buy on CS.TRADE
Buy or trade for M4A4 | Hellfire skins listed below on CS.TRADE trade bot.