M4A4 | Desert-Strike
The Huntsman Collection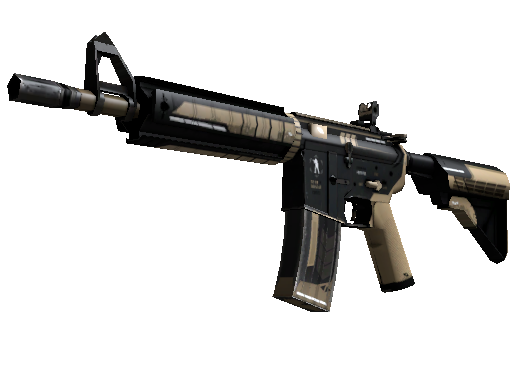 | Condition | Price |
| --- | --- |
| Factory New | $15.09 |
| Minimal Wear | $6.92 |
| Field-Tested | $4.86 |
| Well-Worn | $6.64 |
| Battle-Scarred | $5.04 |
| StatTrak Factory New | $40.73 |
| StatTrak Minimal Wear | $22.79 |
| StatTrak Field-Tested | $15.02 |
| StatTrak Well-Worn | $23.86 |
| StatTrak Battle-Scarred | $16.5 |
Description
It has been custom painted with a high-tech design in tan and black.
The 'M4A4 | Desert-Strike' is a renowned skin in CS:GO and CS2, belonging to the 'milspec' rarity. The camo design reflects the rough terrains that players have to battle in. Released in the 'Huntsman Weapon Case' on May 1, 2014, its market value has been solid. This skin is symbolic of the player's resilience and tactical prowess. It has gained popularity among players and traders for its realistic appeal and consistent market value. As with other skins, its worth increases with the presence of tournament or player stickers, giving it both sentimental and market value.
It was added to Counter-Strike: Global Offensive on 11 June 2014 as part of the The Huntsman Collection with the Phoenix comes to a close update.View Skin Workshop Submission
M4A4 | Desert-Strike skin float value ranges from 0.00 to 0.70 which makes it available in the following wear conditions: Factory New, Minimal Wear, Field-Tested, Well-Worn, Battle-Scarred.
M4A4 | Desert-Strike finish style is Custom Paint Job.
M4A4 | Desert-Strike is a fairly liquid item. It should be easy to sell or exchange it. Traders rates this skin at 4.15/5.0.
Buy on CS.TRADE
Buy or trade for M4A4 | Desert-Strike skins listed below on CS.TRADE trade bot.