M4A4 | Cyber Security
The Operation Broken Fang Collection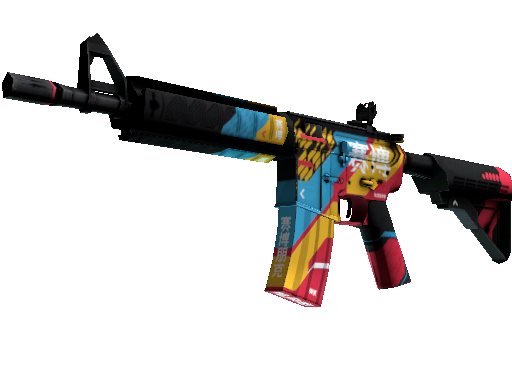 | Condition | Price |
| --- | --- |
| Factory New | $65.07 |
| Minimal Wear | $38.85 |
| Field-Tested | $26.43 |
| Well-Worn | $25.14 |
| Battle-Scarred | $24.12 |
| StatTrak Factory New | $143.59 |
| StatTrak Minimal Wear | $75.08 |
| StatTrak Field-Tested | $36.25 |
| StatTrak Well-Worn | $33.11 |
| StatTrak Battle-Scarred | $33.58 |
Description
Diagonal bands of blue, red, and gold have been custom painted over this M4's black base.
'M4A4 | Cyber Security' is a futuristic skin with a detailed circuit-like design, reflecting the tech-orientated nature of CS:GO and CS2. Released as part of the 'Operation Broken Fang' collection in December 2020, this skin has soared in popularity due to its high-tech aesthetic. Traders value this skin for its constant demand in the marketplace. The price is between $5 and $50, depending on the condition of the skin. Many professional players like Gabriel 'FalleN' Toledo have used this skin in significant matches, increasing its market appeal.
It was added to Counter-Strike: Global Offensive on 3 December 2020 as part of the The Operation Broken Fang Collection with the Operation Broken Fang update.View Skin Workshop Submission
M4A4 | Cyber Security skin float value ranges from 0.00 to 0.98 which makes it available in the following wear conditions: Factory New, Minimal Wear, Field-Tested, Well-Worn, Battle-Scarred.
M4A4 | Cyber Security finish style is Custom Paint Job with finish catalog equal to 985. It's unique flavor text is: 'AVAILABLE NOW AT YOUR LOCAL CYBERNETICS RETAILER'.
M4A4 | Cyber Security is a fairly liquid item. It should be easy to sell or exchange it. Traders rates this skin at 4.65/5.0.
Buy on CS.TRADE
Buy or trade for M4A4 | Cyber Security skins listed below on CS.TRADE trade bot.