M4A4 | Asiimov
The Winter Offensive Collection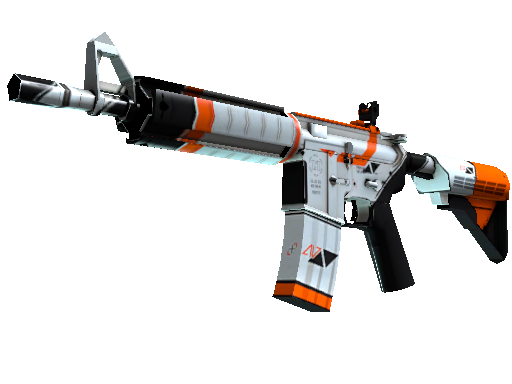 | Condition | Price |
| --- | --- |
| Field-Tested | $229.68 |
| Well-Worn | $141.97 |
| Battle-Scarred | $81.34 |
| StatTrak Field-Tested | $641.46 |
| StatTrak Well-Worn | $376.25 |
| StatTrak Battle-Scarred | $203.34 |
Description
It has been custom painted with a sci-fi design.
The 'M4A4 | Asiimov' is a legendary CS:GO and CS2 skin, part of the 'covert' series. This skin features a futuristic design with sharp, clean lines, making it a favorite among players. Debuted in the 'Winter Offensive Weapon Case' on December 18, 2013, it has enjoyed a high market value due to its rarity and design. This skin stands as a symbol of the player's advanced gaming skills. Traders find this skin particularly lucrative because of its market dynamics and aesthetic appeal. Versions bearing event or player stickers, especially from high-profile players or tournaments, can command an even higher price.
It was added to Counter-Strike: Global Offensive on 18 December 2013 as part of the The Winter Offensive Collection with the Winter Offensive update.View Skin Workshop Submission
M4A4 | Asiimov skin float value ranges from 0.18 to 1.00 which makes it available in the following wear conditions: Field-Tested, Well-Worn, Battle-Scarred.
M4A4 | Asiimov finish style is Custom Paint Job with finish catalog equal to 255. It's unique flavor text is: 'Anyone can predict the future... a visionary shapes it'.
M4A4 | Asiimov is a fairly liquid item. It should be easy to sell or exchange it. Traders rates this skin at 4.86/5.0.
Buy on CS.TRADE
Buy or trade for M4A4 | Asiimov skins listed below on CS.TRADE trade bot.