M4A1-S | Mud-Spec
The Anubis Collection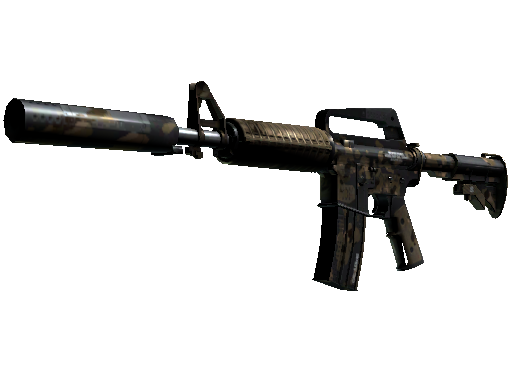 | Condition | Price |
| --- | --- |
| Factory New | $1.68 |
| Minimal Wear | $0.69 |
| Field-Tested | $0.42 |
| Well-Worn | $0.42 |
| Battle-Scarred | $0.43 |
| Souvenir Factory New | $100.1 |
| Souvenir Minimal Wear | $3.68 |
| Souvenir Field-Tested | $1.69 |
| Souvenir Well-Worn | $3.41 |
| Souvenir Battle-Scarred | $2.33 |
Description
A custom black and brown camouflage has been applied.
'M4A1-S | Mud-Spec' is a skin that stands out due to its brown texture that resembles mud splatters. The skin was first seen in the 'Arms Deal Collection'. The grit and grime aesthetic of the skin is appreciated by 'CS:GO' players who prefer a rugged look in their weapons. The price fluctuates on the market, making it a skin to watch for traders. The darker hues blend well in dimly lit scenarios, possibly providing a slight strategic advantage. The skin's 'Field-Tested' variants are quite popular due to their worn-out look, adding to their overall appeal.
It was added to Counter-Strike: Global Offensive on 25 April 2023 as part of the Anubis Collection Package with the The Anubis Collection update. This skin was created by Valve.
M4A1-S | Mud-Spec skin float value ranges from 0.00 to 0.73 which makes it available in the following wear conditions: Factory New, Minimal Wear, Field-Tested, Well-Worn, Battle-Scarred.
M4A1-S | Mud-Spec finish style is Gunsmith with finish catalog equal to 1243. It's unique flavor text is: 'Backup has arrived'.
M4A1-S | Mud-Spec is a fairly liquid item. It should be easy to sell or exchange it. Traders rates this skin at 4.02/5.0.
Buy on CS.TRADE
Buy or trade for M4A1-S | Mud-Spec skins listed below on CS.TRADE trade bot.