M4A1-S | Imminent Danger
The 2021 Vertigo Collection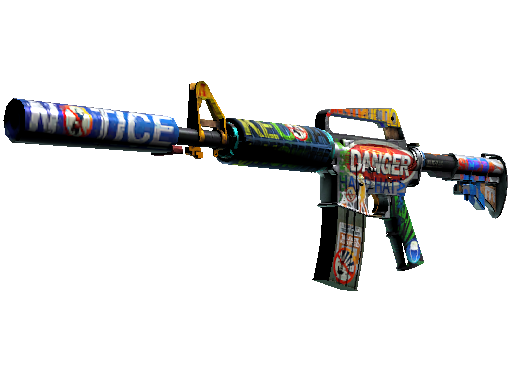 | Condition | Price |
| --- | --- |
| Factory New | $3263.03 |
| Minimal Wear | $2092.62 |
| Field-Tested | $1378.75 |
| Well-Worn | $945.6 |
| Battle-Scarred | $842.91 |
| Souvenir Factory New | $25807.43 |
| Souvenir Minimal Wear | $3290.45 |
| Souvenir Field-Tested | $1444.02 |
| Souvenir Battle-Scarred | $1163.45 |
Description
A custom paint job of multicolored safety signs has been applied.
The M4A1-S | Imminent Danger holds a unique charm for players who favor a vintage war theme. Released as part of the Horizon Case in August 2018, it showcases a military-themed design, emboldened with different symbols and numbers that add authenticity. Due to its more recent release, the fluctuation in its price is relatively moderate. The skin comes in various states of wear, from Battle-Scarred to Factory New, which significantly influences its price.
It was added to Counter-Strike: Global Offensive on 22 September 2021 as part of the The 2021 Vertigo Collection with the Operation Riptide update.
M4A1-S | Imminent Danger skin float value ranges from 0.00 to 0.80 which makes it available in the following wear conditions: Factory New, Minimal Wear, Field-Tested, Well-Worn, Battle-Scarred.
M4A1-S | Imminent Danger finish style is Gunsmith with finish catalog equal to 1073. It's unique flavor text is: 'Don't say I didn't warn you… - Booth, Arms Dealer'.
M4A1-S | Imminent Danger is a fairly liquid item. It should be easy to sell or exchange it. Traders rates this skin at 4.59/5.0.
Buy on CS.TRADE
Buy or trade for M4A1-S | Imminent Danger skins listed below on CS.TRADE trade bot.