M4A1-S | Boreal Forest
The Italy Collection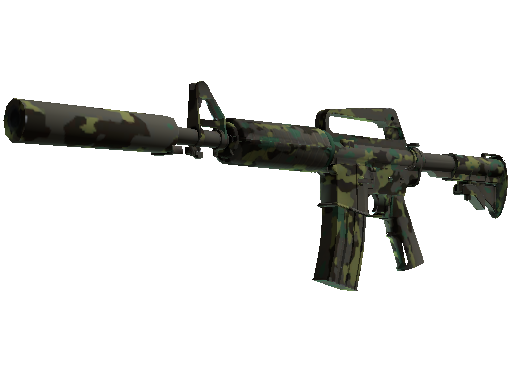 | Condition | Price |
| --- | --- |
| Factory New | $4.82 |
| Minimal Wear | $0.32 |
| Field-Tested | $0.1 |
| Well-Worn | $0.12 |
| Battle-Scarred | $0.1 |
| Souvenir Minimal Wear | $26.33 |
| Souvenir Field-Tested | $21.36 |
| Souvenir Well-Worn | $169.23 |
| Souvenir Battle-Scarred | $32.52 |
Description
It has been painted using a forest camouflage hydrographic.
'M4A1-S | Boreal Forest' is a skin with a unique camouflage pattern that takes inspiration from the dense forests of the north. It's a part of the 'Arms Deal Collection', and its woodland design has made it a popular skin among 'CS:GO' enthusiasts. The green and brown color scheme is appreciated by players for its natural aesthetic and blends well in forest maps providing a potential tactical advantage. The skin's price has remained relatively stable over the years, making it a safe bet for traders. It's available in various wear conditions, each presenting a different level of 'weathered' aesthetic.
It was added to Counter-Strike: Global Offensive on 27 November 2013 as part of the The Italy Collection with the Out with the old, in with the new update. This skin was created by Valve.
M4A1-S | Boreal Forest skin float value ranges from 0.06 to 0.80 which makes it available in the following wear conditions: Factory New, Minimal Wear, Field-Tested, Well-Worn, Battle-Scarred.
M4A1-S | Boreal Forest finish style is Hydrographic with finish catalog equal to 77. It's unique flavor text is: 'The woods can be a dangerous place... never travel alone'.
M4A1-S | Boreal Forest is a fairly liquid item. It should be easy to sell or exchange it. Traders rates this skin at 4.05/5.0.
Buy on CS.TRADE
Buy or trade for M4A1-S | Boreal Forest skins listed below on CS.TRADE trade bot.