M4A1-S | Blue Phosphor
The Control Collection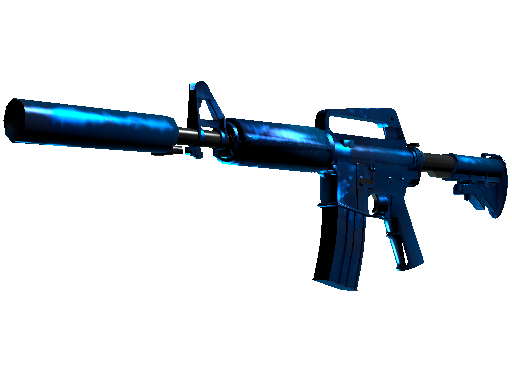 | Condition | Price |
| --- | --- |
| Factory New | $1248.9 |
| Minimal Wear | $1059.75 |
Description
Multiple layers of metallic blue paint have been applied over a chrome blue base coat.
The 'M4A1-S | Blue Phosphor' is a premium skin from the Prisma 2 Case introduced on 31st March 2020. With its vibrant blue and green phosphorescent design, it is one of the most eye-catching skins in CS:GO. Despite its fairly recent release, it has quickly gained popularity among the game's community. In the market, its value has shown significant growth, indicating potential for a good return on investment for traders. As the skin continues to gain more exposure in the game, its popularity and market value are expected to further increase.
It was added to Counter-Strike: Global Offensive on 3 December 2020 as part of the The Control Collection with the Operation Broken Fang update.
M4A1-S | Blue Phosphor skin float value ranges from 0.00 to 0.08 which makes it available in the following wear conditions: Factory New, Minimal Wear.
M4A1-S | Blue Phosphor finish style is Anodized Multicolored with finish catalog equal to 1017. It's unique flavor text is: 'Feeling blue?'.
M4A1-S | Blue Phosphor is a fairly liquid item. It should be easy to sell or exchange it. Traders rates this skin at 4.69/5.0.
Buy on CS.TRADE
Buy or trade for M4A1-S | Blue Phosphor skins listed below on CS.TRADE trade bot.