M4A1-S | Basilisk
The Vanguard Collection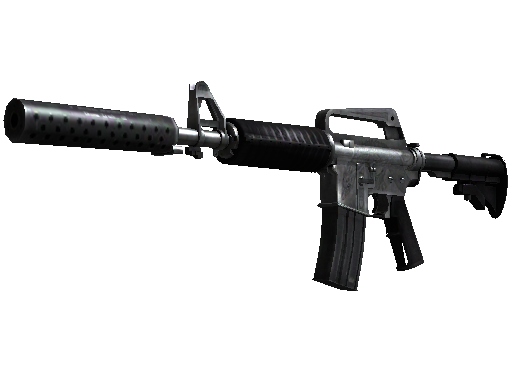 | Condition | Price |
| --- | --- |
| Factory New | $13.26 |
| Minimal Wear | $6.92 |
| Field-Tested | $5.15 |
| Well-Worn | $8.52 |
| Battle-Scarred | $5.87 |
| StatTrak Factory New | $50.17 |
| StatTrak Minimal Wear | $27.63 |
| StatTrak Field-Tested | $18.36 |
| StatTrak Well-Worn | $26.47 |
| StatTrak Battle-Scarred | $21.18 |
Description
It has been etched with a basilisk.
The 'M4A1-S | Basilisk' skin is a classic favorite amongst both CS:GO and CS2 players. Part of the 'Vanguard' collection, the 'Basilisk' was first introduced on November 11, 2014. The skin showcases a monochrome design with an intricate image of a basilisk, a legendary serpent-like creature. It stands out for its simple yet striking aesthetic and is a common sight in many competitive matches. The 'Basilisk' skin has maintained steady value in the trading market, with price fluctuations occurring around the release of new collections or major eSports events. It is a popular choice among players who prefer a more understated look for their weaponry.
It was added to Counter-Strike: Global Offensive on 11 November 2014 as part of the The Vanguard Collection with the Operation Vanguard update.View Skin Workshop Submission
M4A1-S | Basilisk skin float value ranges from 0.00 to 0.68 which makes it available in the following wear conditions: Factory New, Minimal Wear, Field-Tested, Well-Worn, Battle-Scarred.
M4A1-S | Basilisk finish style is Patina with finish catalog equal to 383. It's unique flavor text is: 'It's rude to stare, but war isn't the time for pleasantries'.
M4A1-S | Basilisk is a fairly liquid item. It should be easy to sell or exchange it. Traders rates this skin at 4.13/5.0.
Buy on CS.TRADE
Buy or trade for M4A1-S | Basilisk skins listed below on CS.TRADE trade bot.