M249 | Spectre
The Chroma 3 Collection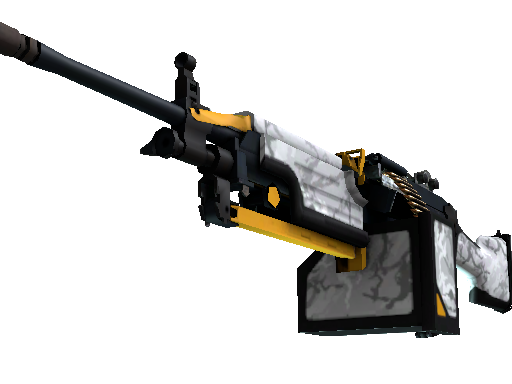 | Condition | Price |
| --- | --- |
| Factory New | $0.33 |
| Minimal Wear | $0.12 |
| Field-Tested | $0.08 |
| Well-Worn | $0.08 |
| Battle-Scarred | $0.07 |
| StatTrak Factory New | $1.12 |
| StatTrak Minimal Wear | $0.56 |
| StatTrak Field-Tested | $0.16 |
| StatTrak Well-Worn | $0.18 |
| StatTrak Battle-Scarred | $0.17 |
Description
It has been painted in a sleek and contemporary manner.
M249 | Spectre is an iconic skin in the Counter-Strike series, particularly known for its cool and spectral theme. The Spectre has come to symbolize a certain degree of stealth and intrigue for players and collectors of the game. The skin's details are intricate and captivating, making it a favorite among the community's market traders. The Spectre has seen a steady increase in value since its introduction, which is attributed to its continued popularity with regular and professional players. The skin was first unveiled during the Gamma 2 Case event and has since become a signature skin at tournaments. Among the professional players who preferred the Spectre is 's1mple', who has often been seen wielding it in tournaments.
It was added to Counter-Strike: Global Offensive on 28 April 2016 as part of the The Chroma 3 Collection with the Trichromacy update.View Skin Workshop Submission
M249 | Spectre skin float value ranges from 0.00 to 0.50 which makes it available in the following wear conditions: Factory New, Minimal Wear, Field-Tested, Well-Worn, Battle-Scarred.
M249 | Spectre finish style is Custom Paint Job with finish catalog equal to 547. It's unique flavor text is: 'The Phoenix civil war is about to begin'.
M249 | Spectre is a fairly liquid item. It should be easy to sell or exchange it. Traders rates this skin at 4.00/5.0.
Buy on CS.TRADE
Buy or trade for M249 | Spectre skins listed below on CS.TRADE trade bot.