M249 | Midnight Palm
The 2021 Dust 2 Collection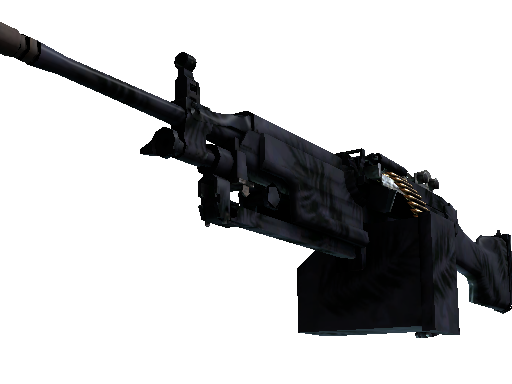 | Condition | Price |
| --- | --- |
| Factory New | $4.65 |
| Minimal Wear | $4.39 |
| Field-Tested | $4.41 |
| Well-Worn | $4.36 |
| Battle-Scarred | $4.44 |
| Souvenir Factory New | $0.07 |
| Souvenir Minimal Wear | $0.05 |
| Souvenir Field-Tested | $0.04 |
| Souvenir Well-Worn | $0.05 |
| Souvenir Battle-Scarred | $0.07 |
Description
It has been spray-painted with black palm fronds over a gray and purple camo.
The M249 | Midnight Palm is an iconic skin from the Counter-Strike series, revered for its unique design that features palm leaves silhouetted against a midnight backdrop. Its rarity and aesthetic appeal make it a sought-after item in the CS:GO and CS2 community. The Midnight Palm first made its appearance in 'Operation Phoenix' and has since become a staple in (e)sports tournaments. Alongside its price, the demand for this skin can be influenced by player performance during these events. For example, when the professional team 'G2 Esports' scored their infamous victory in the 2019 IEM Katowice, the market saw a surge in demand for this item. The M249 | Midnight Palm holds a steady position in the market, continually attracting players with its striking design and superior finish.
It was added to Counter-Strike: Global Offensive on 22 September 2021 as part of the The 2021 Dust 2 Collection with the Operation Riptide update.
M249 | Midnight Palm skin float value ranges from 0.00 to 0.50 which makes it available in the following wear conditions: Factory New, Minimal Wear, Field-Tested, Well-Worn, Battle-Scarred.
M249 | Midnight Palm finish style is Spray-Paint with finish catalog equal to 933. It's unique flavor text is: '"The sign says closed!"'.
M249 | Midnight Palm is a fairly liquid item. It should be easy to sell or exchange it. Traders rates this skin at 4.05/5.0.
Buy on CS.TRADE
Buy or trade for M249 | Midnight Palm skins listed below on CS.TRADE trade bot.