M249 | Magma
The Winter Offensive Collection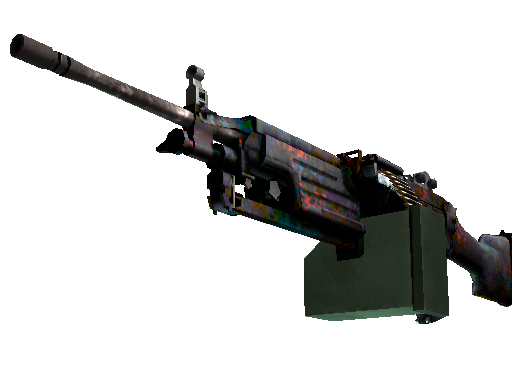 | Condition | Price |
| --- | --- |
| Factory New | $1.79 |
| Minimal Wear | $1.65 |
| Field-Tested | $1.53 |
| Well-Worn | $1.89 |
| Battle-Scarred | $1.33 |
| StatTrak Factory New | $3.27 |
| StatTrak Minimal Wear | $2.88 |
| StatTrak Field-Tested | $2.21 |
| StatTrak Well-Worn | $1.72 |
| StatTrak Battle-Scarred | $1.7 |
Description
It has copper plated parts that have been masked in a magma pattern and given a red patina using sodium chloride and high heat. Unmasked areas have subsequently been darkened via oxidization using liver of sulfur.
M249 | Magma is a fiery skin that is a favorite among the CS:GO and CS2 gaming communities for its vivid and captivating design. The Magma, with its red-hot theme, has always been a standout item in the game's market, often attracting high-value trade offers. Its value has remained fairly consistent over the years due to its sustained demand among players and collectors. This skin was introduced during the Winter Offensive Case event, and has since been a common sight at major tournaments. High-profile professional player 'device' has often utilized the Magma during his dominant performances.
It was added to Counter-Strike: Global Offensive on 18 December 2013 as part of the The Winter Offensive Collection with the Winter Offensive update.View Skin Workshop Submission
M249 | Magma skin float value ranges from 0.00 to 0.70 which makes it available in the following wear conditions: Factory New, Minimal Wear, Field-Tested, Well-Worn, Battle-Scarred.
M249 | Magma finish style is Patina with finish catalog equal to 266. It's unique flavor text is: 'A burning rate of fire'.
M249 | Magma is an item of very low liquidity. It's hard to sell or trade. Traders rates this skin at 2.02/5.0.
Buy on CS.TRADE
Buy or trade for M249 | Magma skins listed below on CS.TRADE trade bot.