M249 | Impact Drill
The Chop Shop Collection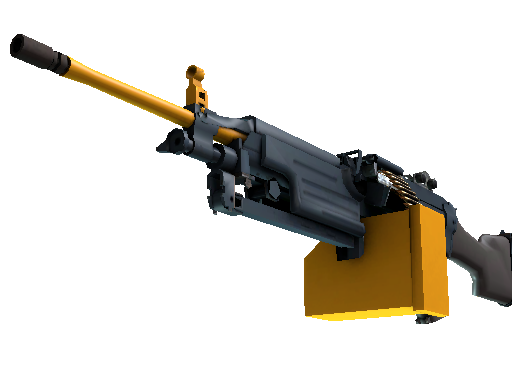 | Condition | Price |
| --- | --- |
| Factory New | $4.31 |
| Minimal Wear | $2.48 |
| Field-Tested | $2.26 |
| Well-Worn | $2.31 |
| Battle-Scarred | $2.2 |
Description
It has individual parts spray-painted solid colors in a blue and orange color scheme.
The 'M249 | Impact Drill' skin in both CS:GO and CS2 is best known for its industrial design, resonating with players who prefer a rugged in-game aesthetic. The skin's value has seen a moderate rise over time based on market trends. Named after an impact drill, this skin invites comparison to the tool's relentless power and precision, traits highly admired among players. The 'M249 | Impact Drill' has been associated with several victorious matches during tournaments, further enhancing its appeal to traders and players alike.
It was added to Counter-Strike: Global Offensive on 26 May 2015 as part of the The Chop Shop Collection with the Operation Bloodhound update. This skin was created by Valve.
M249 | Impact Drill skin float value ranges from 0.00 to 1.00 which makes it available in the following wear conditions: Factory New, Minimal Wear, Field-Tested, Well-Worn, Battle-Scarred.
M249 | Impact Drill finish style is Solid Color with finish catalog equal to 472. It's unique flavor text is: 'The great equalizer'.
M249 | Impact Drill is a fairly liquid item. It should be easy to sell or exchange it. Traders rates this skin at 4.04/5.0.
Buy on CS.TRADE
Buy or trade for M249 | Impact Drill skins listed below on CS.TRADE trade bot.