M249 | Contrast Spray
The Overpass Collection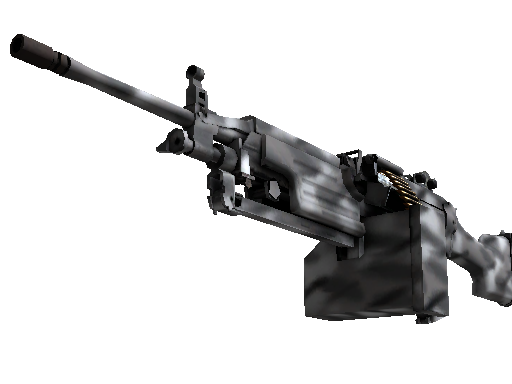 | Condition | Price |
| --- | --- |
| Factory New | $4.24 |
| Minimal Wear | $0.57 |
| Field-Tested | $0.34 |
| Well-Worn | $0.19 |
| Battle-Scarred | $0.15 |
| Souvenir Factory New | $0.68 |
| Souvenir Minimal Wear | $0.05 |
| Souvenir Field-Tested | $0.03 |
| Souvenir Well-Worn | $0.04 |
| Souvenir Battle-Scarred | $0.03 |
Description
It has been spray-painted freehand with short, thick lines in contrasting colors.
Known for its distinct, abstract design, the 'M249 | Contrast Spray' is a sought-after skin in CS:GO and CS2. This skin tends to be favoured by players who appreciate an artistic element in their gameplay. The 'M249 | Contrast Spray' though relatively new, has gained significant traction in the market, with its value expected to increase over time. The skin has been seen in the hands of various prominent players during major tournaments, which has greatly boosted its visibility and demand.
It was added to Counter-Strike: Global Offensive on 1 July 2014 as part of the The Overpass Collection with the Operation Breakout update. This skin was created by Valve.
M249 | Contrast Spray skin float value ranges from 0.06 to 0.80 which makes it available in the following wear conditions: Factory New, Minimal Wear, Field-Tested, Well-Worn, Battle-Scarred.
M249 | Contrast Spray finish style is Spray-Paint with finish catalog equal to 22. It's unique flavor text is: 'Perfect for the insurgent on the go'.
M249 | Contrast Spray is an item of very low liquidity. It's hard to sell or trade. Traders rates this skin at 2.04/5.0.
Buy on CS.TRADE
Buy or trade for M249 | Contrast Spray skins listed below on CS.TRADE trade bot.