Karambit | Tiger Tooth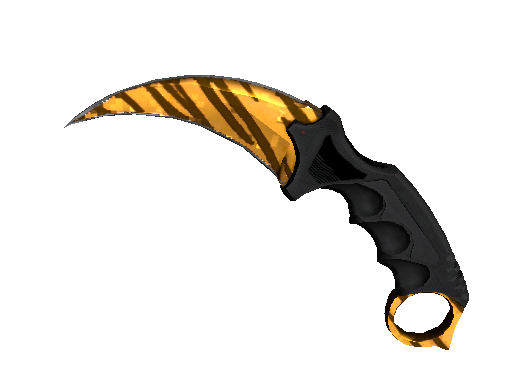 | Condition | Price |
| --- | --- |
| Factory New | $2252.78 |
| Minimal Wear | $1975.7 |
| StatTrak Factory New | $2089.24 |
| StatTrak Minimal Wear | $1294.93 |
Description
It has been anodized orange and hand-etched in a tiger stripe pattern.
The 'Karambit | Tiger Tooth' is a highly sought-after melee weapon in both CS:GO and CS2, renowned for its sharp blade and unique tiger-stripe pattern. This skin adds an exotic, predatory appeal to the karambit, featuring a blade painted with a mixture of black and gold colours, reminiscent of a tiger's distinctive stripes. It is a rarity among CS:GO/CS2 skins because it belongs to the 'Covert' category, signifying its exceptional quality and high demand among players and traders. With its first appearance on December 8, 2015, in the 'CS:GO Weapon Case 3', the 'Karambit | Tiger Tooth' has held its place in the market for its eye-catching design and the prestige it carries in the gaming community. The price range varies significantly depending on the wear value, with Factory New versions fetching the highest prices. The unique appearance of the 'Karambit | Tiger Tooth' makes it a popular pick in esports tournaments, seen in the hands of various players who appreciate its striking visuals and representation of strength.
It was added to Counter-Strike: Global Offensive on 8 January 2015 with the Full Spectrum update.
Karambit | Tiger Tooth skin float value ranges from 0.00 to 0.08 which makes it available in the following wear conditions: Factory New, Minimal Wear.
Karambit | Tiger Tooth finish style is Anodized Multicolored with finish catalog equal to 409. It's unique flavor text is: 'Like the tiger it is rare... like the tiger it is deadly...'.
Karambit | Tiger Tooth is a fairly liquid item. It should be easy to sell or exchange it. Traders rates this skin at 4.61/5.0.
Buy on CS.TRADE
Buy or trade for Karambit | Tiger Tooth skins listed below on CS.TRADE trade bot.