Karambit | Night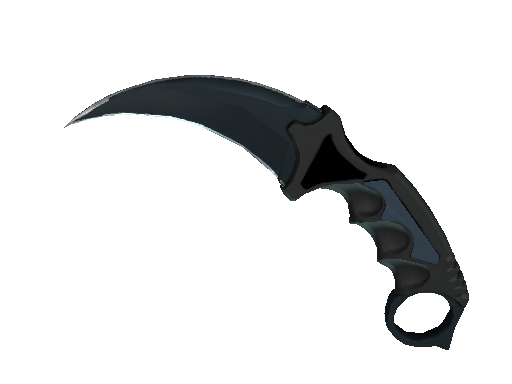 | Condition | Price |
| --- | --- |
| Factory New | $2058.81 |
| Minimal Wear | $1149.38 |
| Field-Tested | $951.98 |
| Well-Worn | $916.3 |
| Battle-Scarred | $873.97 |
| StatTrak Minimal Wear | $997.1 |
| StatTrak Field-Tested | $934.37 |
| StatTrak Well-Worn | $280.81 |
| StatTrak Battle-Scarred | $847.89 |
Description
It has individual parts spray-painted solid colors in a night ops color scheme.
The 'Karambit | Night' is a classic Counter-Strike melee weapon. Notably used by professional players during numerous nighttime raids, its stealthy black design has become iconic within the CS:GO and CS2 community. This skin was initially introduced in the 'CS:GO Weapon Case 3', creating a significant impact on the trading market due to its high demand and rarity. As per market statistics, the 'Karambit | Night' often trades above its average price point, signifying its value and popularity among players and collectors alike. The skin's design resembles a dark, moonlit night, adding to its appeal for stealth operations in the game. Its presence in major tournaments has been noted, with players wielding this skin making significant progress in their matches.
It was added to Counter-Strike: Global Offensive on 14 August 2013 with the The Arms Deal update.
Karambit | Night skin float value ranges from 0.06 to 0.80 which makes it available in the following wear conditions: Factory New, Minimal Wear, Field-Tested, Well-Worn, Battle-Scarred.
Karambit | Night finish style is Solid Color with finish catalog equal to 40. It's unique flavor text is: 'It's the whisper of the wind... it's the bite at your neck'.
Karambit | Night is an item of very low liquidity. It's hard to sell or trade. Traders rates this skin at 4.83/5.0.
Buy on CS.TRADE
Buy or trade for Karambit | Night skins listed below on CS.TRADE trade bot.