Karambit | Lore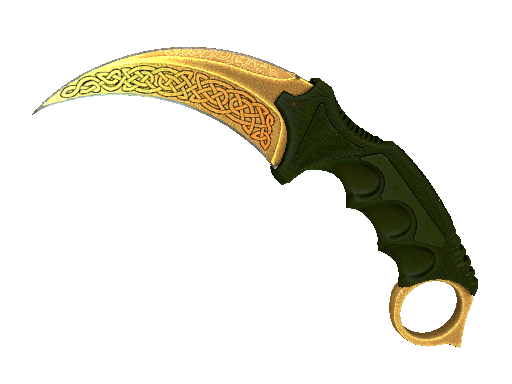 | Condition | Price |
| --- | --- |
| Factory New | $4630.99 |
| Minimal Wear | $2868.93 |
| Field-Tested | $1661.87 |
| Well-Worn | $1346.08 |
| Battle-Scarred | $1086.45 |
| StatTrak Factory New | $4450.65 |
| StatTrak Minimal Wear | $2678.97 |
| StatTrak Field-Tested | $1611.33 |
| StatTrak Well-Worn | $1326.5 |
| StatTrak Battle-Scarred | $1085.63 |
Description
It has been custom painted with knotwork.
The 'Karambit | Lore' is a highly sought-after skin for its illustrious history and exceptional craftsmanship. The blade showcases a detailed, intricate pattern that echoes myths and legends of the Counter-Strike universe. It's commonly seen on the market at prices around $500-$1,500, making it a prized asset for players and collectors alike. This skin often appears in major CS:GO and CS2 tournaments, embodying the historical and competitive spirit of the games.
It was added to Counter-Strike: Global Offensive on 16 June 2016 with the Gamma Exposure update.
Karambit | Lore skin float value ranges from 0.00 to 0.65 which makes it available in the following wear conditions: Factory New, Minimal Wear, Field-Tested, Well-Worn, Battle-Scarred.
Karambit | Lore finish style is Custom Paint Job.
Karambit | Lore is a fairly liquid item. It should be easy to sell or exchange it. Traders rates this skin at 4.92/5.0.
Buy on CS.TRADE
Buy or trade for Karambit | Lore skins listed below on CS.TRADE trade bot.