Karambit | Doppler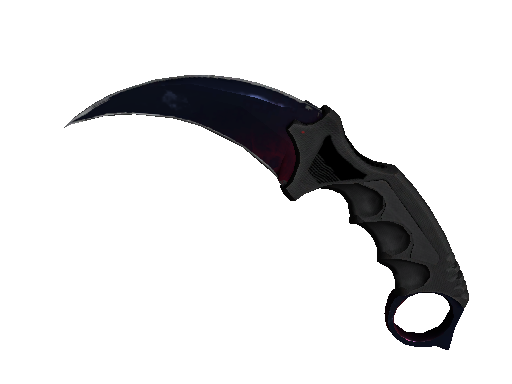 | Condition | Price |
| --- | --- |
| Factory New | $1876.43 |
| Minimal Wear | $1862.96 |
| StatTrak Factory New | $1856.73 |
| StatTrak Minimal Wear | $720.35 |
Description
It has been painted with black and silver metallic paints using a marbleizing medium, then candy coated.
The 'Karambit | Doppler' is another exquisite skin for the karambit weapon in CS:GO and CS2. Introduced in the 'Chroma' case on January 8, 2015, this skin not only presents an outstanding visual appeal but also holds significant value in the game's trading market. The 'Doppler' is part of the 'Covert' category, confirming its premium status and high demand among the community. The skin dates back to 2015, and its price fluctuates based on its condition. The 'Karambit | Doppler' features a sleek black handle and an iridescent blade that shifts colours with the light, creating a remarkable visual effect. The vibrant holographic pattern on the blade perfectly complements the compact and lethal design of the karambit, making this skin a fan-favourite during esports events.
It was added to Counter-Strike: Global Offensive on 8 January 2015 with the Full Spectrum update.
Karambit | Doppler skin float value ranges from 0.00 to 0.08 which makes it available in the following wear conditions: Factory New, Minimal Wear.
Karambit | Doppler finish style is Anodized Multicolored. It's unique flavor text is: 'Getting lost in its color can prove fatal'.
Karambit | Doppler is a fairly liquid item. It should be easy to sell or exchange it. Traders rates this skin at 4.83/5.0.
Buy on CS.TRADE
Buy or trade for Karambit | Doppler skins listed below on CS.TRADE trade bot.