Karambit | Damascus Steel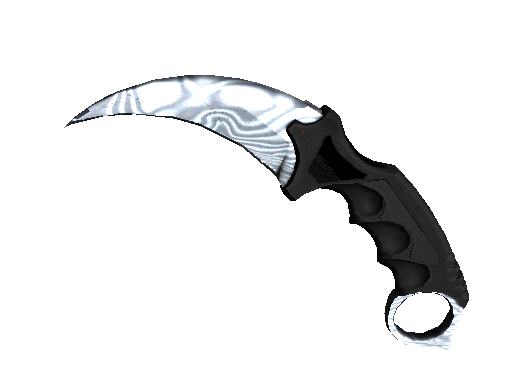 | Condition | Price |
| --- | --- |
| Factory New | $1493.13 |
| Minimal Wear | $1341.69 |
| Field-Tested | $1185.09 |
| Well-Worn | $1069.41 |
| Battle-Scarred | $1009.08 |
| StatTrak Factory New | $1438.7 |
| StatTrak Minimal Wear | $1251.22 |
| StatTrak Field-Tested | $1112.93 |
| StatTrak Well-Worn | $663.79 |
| StatTrak Battle-Scarred | $194.06 |
Description
It has been forged from a billet made from two different types of carbon steel.
The 'Karambit | Damascus Steel' is a unique knife skin in both CS:GO and CS2, known for its distinctive blade. The skin surfaced first on February 15, 2015, in the 'Chroma' case. Attributed to the 'Covert' category, this skin has a high demand and is one of the most desired due to its special pattern that resembles historical Damascus steel, known for its durability and sharpness. The skin presents a sharp contrast between the black handle and the blade's crisscross pattern, which gives it an authentic and rustic appeal. The 'Karambit | Damascus Steel' is a popular choice for players and traders alike due to its historical reference and unique design.
It was added to Counter-Strike: Global Offensive on 8 January 2015 with the Full Spectrum update.
Karambit | Damascus Steel skin float value ranges from 0.00 to 0.50 which makes it available in the following wear conditions: Factory New, Minimal Wear, Field-Tested, Well-Worn, Battle-Scarred.
Karambit | Damascus Steel finish style is Patina with finish catalog equal to 410. It's unique flavor text is: 'Finally, a weapon strong enough to match your resolve'.
Karambit | Damascus Steel is a fairly liquid item. It should be easy to sell or exchange it. Traders rates this skin at 4.69/5.0.
Buy on CS.TRADE
Buy or trade for Karambit | Damascus Steel skins listed below on CS.TRADE trade bot.