Karambit | Case Hardened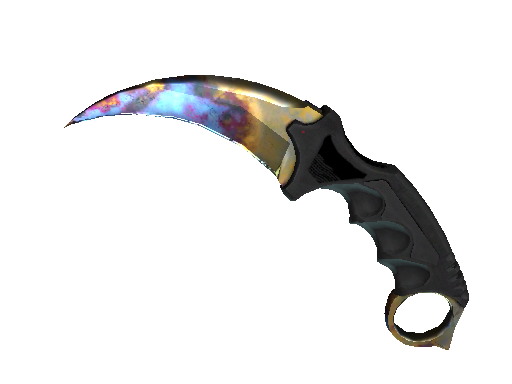 | Condition | Price |
| --- | --- |
| Factory New | $2535.1 |
| Minimal Wear | $1702.1 |
| Field-Tested | $1461.87 |
| Well-Worn | $1201.19 |
| Battle-Scarred | $1071.48 |
| StatTrak Factory New | $1918.67 |
| StatTrak Minimal Wear | $1657.61 |
| StatTrak Field-Tested | $1420.75 |
| StatTrak Well-Worn | $1187.94 |
| StatTrak Battle-Scarred | $1077.64 |
Description
It has been color case-hardened through the application of wood charcoal at high temperatures.
The 'Karambit | Case Hardened' skin is a unique collector's piece in CS:GO and CS2. The case-hardened pattern, combined with its sleek design, adds visual appeal when playing. Introduced in the Arms Deal Collection, this skin has consistently held its high value, reflecting in its market price that ranges from $250 to $1400. The random 'case hardened' pattern can sometimes create rare and valuable pattern, boosting the skin's market value. The 'Karambit | Case Hardened' skin is a fine choice for players looking for a blend of aesthetics and rarity, attracting attention from collectors and traders alike.
It was added to Counter-Strike: Global Offensive on 14 August 2013 with the The Arms Deal update.
Karambit | Case Hardened skin float value ranges from 0.00 to 1.00 which makes it available in the following wear conditions: Factory New, Minimal Wear, Field-Tested, Well-Worn, Battle-Scarred.
Karambit | Case Hardened finish style is Patina with finish catalog equal to 44. It's unique flavor text is: 'A little color never hurt anyone'.
Karambit | Case Hardened is a fairly liquid item. It should be easy to sell or exchange it. Traders rates this skin at 4.64/5.0.
Buy on CS.TRADE
Buy or trade for Karambit | Case Hardened skins listed below on CS.TRADE trade bot.