Huntsman Knife | Gamma Doppler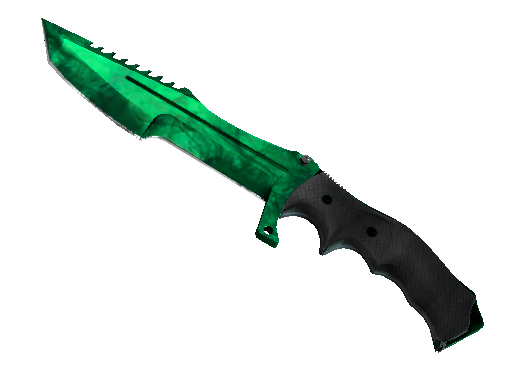 | Condition | Price |
| --- | --- |
| Factory New | $634.71 |
| Minimal Wear | $645.15 |
| StatTrak Factory New | $695.45 |
| StatTrak Minimal Wear | $494.11 |
Description
It has been painted with black and silver metallic paints using a marbleizing medium, then candy coated.
The 'Huntsman Knife | Gamma Doppler' is a unique player in the skin market. The Gamma Doppler features a bold, vibrant design inspired by the physics phenomenon, Doppler Effect. The blend of green and black not only draws eyes on the battlefield but also resonates with traders due to its highly sought-after status. The Gamma Doppler was first introduced at esports events, contributing to its storied history within the player and trading community. Owning this skin has been equivalent to owning a piece of CS:GO, and now, CS2 history.
It was added to Counter-Strike: Global Offensive on 22 September 2021 with the Operation Riptide update.
Huntsman Knife | Gamma Doppler skin float value ranges from 0.00 to 0.08 which makes it available in the following wear conditions: Factory New, Minimal Wear.
Huntsman Knife | Gamma Doppler finish style is Anodized Multicolored.
Huntsman Knife | Gamma Doppler is an item of average liquidity. It may take some time to sell or trade it. Traders rates this skin at 4.73/5.0.
Buy on CS.TRADE
Buy or trade for Huntsman Knife | Gamma Doppler skins listed below on CS.TRADE trade bot.