Gut Knife | Ultraviolet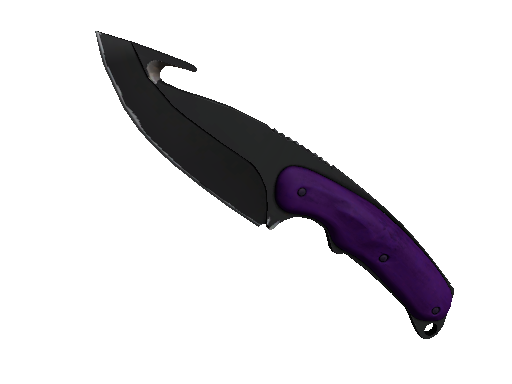 | Condition | Price |
| --- | --- |
| Factory New | $228.55 |
| Minimal Wear | $193.38 |
| Field-Tested | $157.81 |
| Well-Worn | $146.64 |
| Battle-Scarred | $150.6 |
| StatTrak Minimal Wear | $187.15 |
| StatTrak Field-Tested | $147.78 |
| StatTrak Well-Worn | $107.5 |
| StatTrak Battle-Scarred | $183.66 |
Description
It has individual parts spray-painted solid colors in a black and purple color scheme.
The 'Gut Knife | Ultraviolet' is a premium skin in CS:GO and CS2, popular for its slick, dark design. The ultraviolet skin features a sleek black base with a subtle purple sheen, giving it a mysterious aura. The skin was first released as part of the 'Chroma' collection on 8th January 2015. It's a perfect match for players who prefer stealth and subtlety in their game strategy. This item has seen a steady price in the market due to its ongoing popularity among players. The Ultraviolet skin is available in the Chroma and Chroma 2 cases.
It was added to Counter-Strike: Global Offensive on 8 January 2015 with the Full Spectrum update.
Gut Knife | Ultraviolet skin float value ranges from 0.06 to 0.80 which makes it available in the following wear conditions: Factory New, Minimal Wear, Field-Tested, Well-Worn, Battle-Scarred.
Gut Knife | Ultraviolet finish style is Solid Color with finish catalog equal to 98. It's unique flavor text is: 'Elegant design paired with brutal intent'.
Gut Knife | Ultraviolet is an item of very low liquidity. It's hard to sell or trade. Traders rates this skin at 4.29/5.0.
Buy on CS.TRADE
Buy or trade for Gut Knife | Ultraviolet skins listed below on CS.TRADE trade bot.