Gut Knife | Tiger Tooth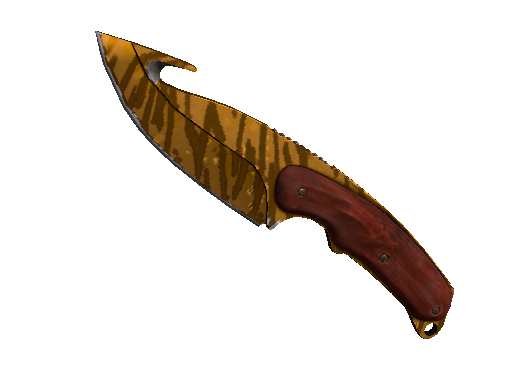 | Condition | Price |
| --- | --- |
| Factory New | $301.78 |
| Minimal Wear | $333.09 |
| StatTrak Factory New | $301.52 |
| StatTrak Minimal Wear | $162.85 |
Description
It has been anodized orange and hand-etched in a tiger stripe pattern.
The 'Gut Knife | Tiger Tooth' is an iconic skin in CS:GO and CS2 due to its striking design. This skin features a captivating tiger stripe pattern in gold and black, hence its name. It was introduced to players with the 'Chroma Case' on January 8, 2015. Its 'Covert' rarity level makes it a highly sought-after item. The 'Tiger Tooth' skin has also been featured in various CS:GO and CS2 tournament plays, enhancing its demand and prestige. Its price on the Steam Market is relatively steep, ranging from $200 to $400 depending on the skin condition. The 'Gut Knife | Tiger Tooth' is an excellent choice for players who seek a bold and visually stunning skin to add to their collection.
It was added to Counter-Strike: Global Offensive on 8 January 2015 with the Full Spectrum update.
Gut Knife | Tiger Tooth skin float value ranges from 0.00 to 0.08 which makes it available in the following wear conditions: Factory New, Minimal Wear.
Gut Knife | Tiger Tooth finish style is Anodized Multicolored with finish catalog equal to 409. It's unique flavor text is: 'Like the tiger it is rare... like the tiger it is deadly...'.
Gut Knife | Tiger Tooth is an item of average liquidity. It may take some time to sell or trade it. Traders rates this skin at 4.94/5.0.
Buy on CS.TRADE
Buy or trade for Gut Knife | Tiger Tooth skins listed below on CS.TRADE trade bot.