Gut Knife | Freehand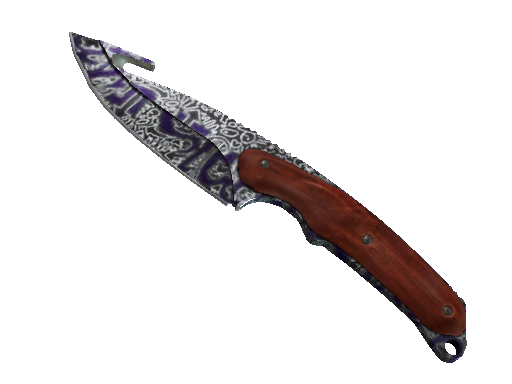 | Condition | Price |
| --- | --- |
| Factory New | $200.88 |
| Minimal Wear | $187.01 |
| Field-Tested | $170.06 |
| Well-Worn | $154.02 |
| Battle-Scarred | $144.31 |
| StatTrak Factory New | $212 |
| StatTrak Minimal Wear | $177.7 |
| StatTrak Field-Tested | $177.17 |
| StatTrak Well-Worn | $104.54 |
| StatTrak Battle-Scarred | $66.83 |
Description
It has been painted black and purple, then decorated with a metallic marker.
The 'Gut Knife | Freehand' is a rare and distinctive weapon skin in the CS:GO and CS2 universe. It features an intricate white and dark blue pattern that gives it a tribal or abstract feel. This skin was added to the game with the 'Gamma 2 Case', which was released in August 18, 2016. The 'Freehand' skin is a 'Covert' rarity item, making it a sought-after piece among players and collectors. This knife has been spotted being used by numerous top-tier CS:GO and CS2 players in various esports tournaments, which added to its prestige and value. On Steam Market, this skin's price varies between $100 and $200, depending on the item's wear. With its unique design and prestigious history, the 'Gut Knife | Freehand' is an excellent choice for those desiring a blend of style and performance.
It was added to Counter-Strike: Global Offensive on 16 June 2016 with the Gamma Exposure update.
Gut Knife | Freehand skin float value ranges from 0.00 to 0.48 which makes it available in the following wear conditions: Factory New, Minimal Wear, Field-Tested, Well-Worn, Battle-Scarred.
Gut Knife | Freehand finish style is Anodized Multicolored.
Gut Knife | Freehand is a fairly liquid item. It should be easy to sell or exchange it. Traders rates this skin at 4.94/5.0.
Buy on CS.TRADE
Buy or trade for Gut Knife | Freehand skins listed below on CS.TRADE trade bot.