Gut Knife | Case Hardened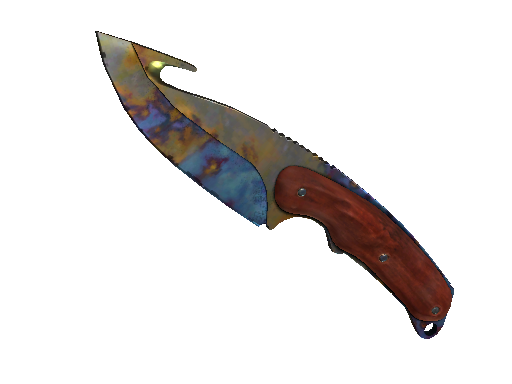 | Condition | Price |
| --- | --- |
| Factory New | $363.04 |
| Minimal Wear | $257.56 |
| Field-Tested | $229.81 |
| Well-Worn | $212.6 |
| Battle-Scarred | $202.36 |
| StatTrak Factory New | $262.15 |
| StatTrak Minimal Wear | $347.64 |
| StatTrak Field-Tested | $234.42 |
| StatTrak Well-Worn | $188.28 |
| StatTrak Battle-Scarred | $146.39 |
Description
It has been color case-hardened through the application of wood charcoal at high temperatures.
The 'Gut Knife | Case Hardened' is an iconic item in the CS:GO and CS2 scene known for its distinct metallic blue finish which is the result of heating to extreme temperatures and then cooling - a process known as 'case hardening'. This skin is known to be equipped by numerous players during the major PGL Krakow 2017 tournament. It is prized not only for its aesthetic appeal but also for its connection to high-level competitive play. The market price is consistently high, driven by its sustained popularity among players, collectors, and traders, making this skin a must-have for those looking to enhance their virtual arsenal or investment portfolio.
It was added to Counter-Strike: Global Offensive on 14 August 2013 with the The Arms Deal update.
Gut Knife | Case Hardened skin float value ranges from 0.00 to 1.00 which makes it available in the following wear conditions: Factory New, Minimal Wear, Field-Tested, Well-Worn, Battle-Scarred.
Gut Knife | Case Hardened finish style is Patina with finish catalog equal to 44. It's unique flavor text is: 'A little color never hurt anyone'.
Gut Knife | Case Hardened is an item of average liquidity. It may take some time to sell or trade it. Traders rates this skin at 4.89/5.0.
Buy on CS.TRADE
Buy or trade for Gut Knife | Case Hardened skins listed below on CS.TRADE trade bot.