Glock-18 | Winterized
The Recoil Collection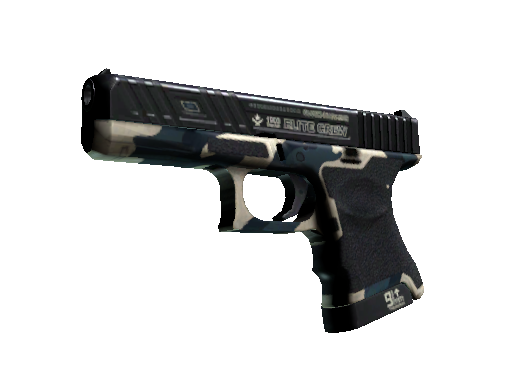 | Condition | Price |
| --- | --- |
| Factory New | $0.42 |
| Minimal Wear | $0.17 |
| Field-Tested | $0.09 |
| Well-Worn | $0.08 |
| Battle-Scarred | $0.08 |
| StatTrak Factory New | $3.83 |
| StatTrak Minimal Wear | $0.63 |
| StatTrak Field-Tested | $0.2 |
| StatTrak Well-Worn | $0.16 |
| StatTrak Battle-Scarred | $0.16 |
Description
It has been custom painted with a military camouflage in a winter colorway.
The 'Glock-18 | Winterized' is a sought-after skin in both CS:GO and CS2 for its unique winter-themed design. It features a vibrant white and ice-blue color scheme that represents the harsh chill of winter, making it a favorite amongst players who value aesthetics. Glock-18 is known for its versatility in the game with its high fire rate and decent damage output, being a reliable choice for both new players and experienced ones. The Winterized skin was first introduced in the 2014 Winter Offensive, making it a part of the game's history. It varies in price depending on its exterior quality, but it has generally maintained a decent value in the market making it a good skin for trade.
It was added to Counter-Strike: Global Offensive on 1 July 2022 as part of the The Recoil Collection with the A New Cassssssse update.View Skin Workshop Submission
Glock-18 | Winterized skin float value ranges from 0.00 to 1.00 which makes it available in the following wear conditions: Factory New, Minimal Wear, Field-Tested, Well-Worn, Battle-Scarred.
Glock-18 | Winterized finish style is Gunsmith with finish catalog equal to 1158. It's unique flavor text is: 'Freeze!'.
Glock-18 | Winterized is a fairly liquid item. It should be easy to sell or exchange it. Traders rates this skin at 4.00/5.0.
Buy on CS.TRADE
Buy or trade for Glock-18 | Winterized skins listed below on CS.TRADE trade bot.