Glock-18 | Weasel
The Gamma 2 Collection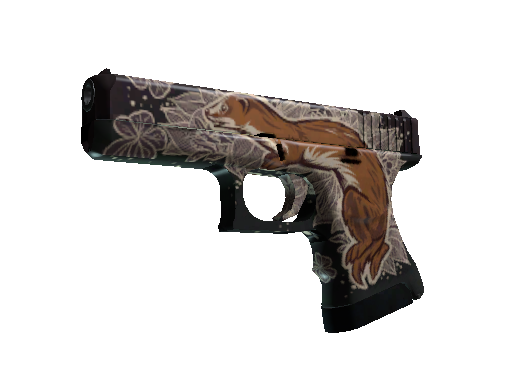 | Condition | Price |
| --- | --- |
| Factory New | $2.89 |
| Minimal Wear | $0.83 |
| Field-Tested | $0.42 |
| Well-Worn | $0.38 |
| Battle-Scarred | $0.41 |
| StatTrak Factory New | $13.22 |
| StatTrak Minimal Wear | $3.68 |
| StatTrak Field-Tested | $1.57 |
| StatTrak Well-Worn | $1.43 |
| StatTrak Battle-Scarred | $1.33 |
Description
It has been given a hydrographic of Bobby the Mischievous Weasel. Don't mess with Bobby.
'Glock-18 | Weasel' is another signature skin in CS:GO and CS2. It has an eye-catching design that features a fierce weasel, lending a unique flair to this weapon. The 'Weasel' skin attracts players and collectors due to its striking art style and detail. The fiery red background of the skin, coupled with the piercing eyes of the weasel, makes it an intimidating presence in any game. Furthermore, the 'Weasel' skin maintains a steady market value, making it a go-to choice for traders seeking to diversify their collections. Its value increases during specific tournament periods, reflecting its association with certain players and teams. 'Weasel' holds a distinctive position in the CS:GO and CS2 gaming communities due to its captivating design and enduring popularity.
It was added to Counter-Strike: Global Offensive on 19 August 2016 as part of the The Gamma 2 Collection with the Double Exposure update.View Skin Workshop Submission
Glock-18 | Weasel skin float value ranges from 0.00 to 1.00 which makes it available in the following wear conditions: Factory New, Minimal Wear, Field-Tested, Well-Worn, Battle-Scarred.
Glock-18 | Weasel finish style is Custom Paint Job with finish catalog equal to 607. It's unique flavor text is: 'Just because he's cute, doesn't mean he doesn't bite'.
Glock-18 | Weasel is a fairly liquid item. It should be easy to sell or exchange it. Traders rates this skin at 4.03/5.0.
Buy on CS.TRADE
Buy or trade for Glock-18 | Weasel skins listed below on CS.TRADE trade bot.