Glock-18 | Vogue
The Fracture Collection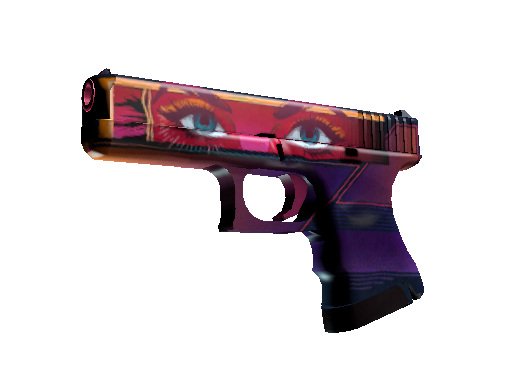 | Condition | Price |
| --- | --- |
| Factory New | $14.66 |
| Minimal Wear | $8.07 |
| Field-Tested | $4.97 |
| Well-Worn | $4.99 |
| Battle-Scarred | $4.24 |
| StatTrak Factory New | $32.65 |
| StatTrak Minimal Wear | $15.81 |
| StatTrak Field-Tested | $8.26 |
| StatTrak Well-Worn | $8.85 |
| StatTrak Battle-Scarred | $7.12 |
Description
A pair of eyes grace the slide of this custom painted, Pop art inspired Glock.
Sporting a stylish and modern design, the 'Glock-18 | Vogue' is a symbol of sophistication in the CS:GO universe. It was released as part of the 'Prisma 2' case in 2020 and its sleek design coupled with its affordable price range of $2 to $100 based on condition and rarity, explains its popularity among players. Whether novice or pro, the 'Glock-18 | Vogue' is a stylish companion for any CS:GO player.
It was added to Counter-Strike: Global Offensive on 7 August 2020 as part of the The Fracture Collection with the On the Case update.View Skin Workshop Submission
Glock-18 | Vogue skin float value ranges from 0.00 to 0.75 which makes it available in the following wear conditions: Factory New, Minimal Wear, Field-Tested, Well-Worn, Battle-Scarred.
Glock-18 | Vogue finish style is Custom Paint Job with finish catalog equal to 963. It's unique flavor text is: '"Look at me while I'm shooting at you!"'.
Glock-18 | Vogue is a fairly liquid item. It should be easy to sell or exchange it. Traders rates this skin at 4.15/5.0.
Buy on CS.TRADE
Buy or trade for Glock-18 | Vogue skins listed below on CS.TRADE trade bot.