Glock-18 | Snack Attack
The Operation Riptide Collection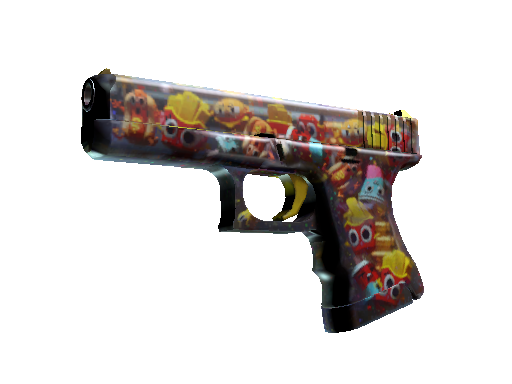 | Condition | Price |
| --- | --- |
| Factory New | $30.38 |
| Minimal Wear | $9.28 |
| Field-Tested | $5.05 |
| Well-Worn | $3.8 |
| Battle-Scarred | $3.92 |
| StatTrak Factory New | $119.74 |
| StatTrak Minimal Wear | $34.22 |
| StatTrak Field-Tested | $14.15 |
| StatTrak Well-Worn | $9.65 |
| StatTrak Battle-Scarred | $9.57 |
Description
It has been custom painted to resemble junk food trinkets suspended in resin.
With a playful design featuring snacks and adorable characters, the 'Glock-18 | Snack Attack' has emerged as a favorite among CS:GO players. It was released as part of the 'Horizon' case in 2018, and its value has increased over time. The market price for this fun and whimsical skin ranges from $10 to $400 depending on the float value. The 'Glock-18 | Snack Attack' is a light-hearted addition to any player's arsenal, adding a touch of joy to the intense gaming environment.
It was added to Counter-Strike: Global Offensive on 22 September 2021 as part of the The Operation Riptide Collection with the Operation Riptide update.View Skin Workshop Submission
Glock-18 | Snack Attack skin float value ranges from 0.00 to 1.00 which makes it available in the following wear conditions: Factory New, Minimal Wear, Field-Tested, Well-Worn, Battle-Scarred.
Glock-18 | Snack Attack finish style is Custom Paint Job with finish catalog equal to 1100. It's unique flavor text is: 'The snack that fights back'.
Glock-18 | Snack Attack is a fairly liquid item. It should be easy to sell or exchange it. Traders rates this skin at 4.30/5.0.
Buy on CS.TRADE
Buy or trade for Glock-18 | Snack Attack skins listed below on CS.TRADE trade bot.