Glock-18 | Royal Legion
The Wildfire Collection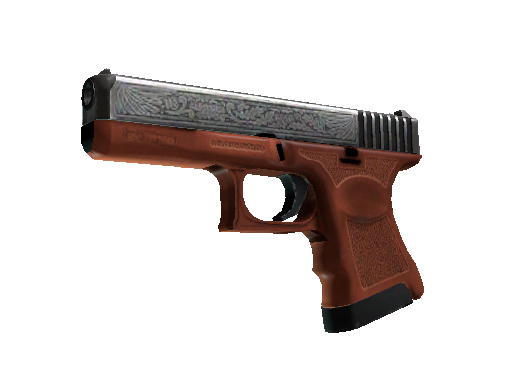 | Condition | Price |
| --- | --- |
| Factory New | $8.61 |
| Minimal Wear | $4.1 |
| Field-Tested | $3.11 |
| Well-Worn | $2.73 |
| Battle-Scarred | $2.78 |
| StatTrak Factory New | $32.8 |
| StatTrak Minimal Wear | $9.92 |
| StatTrak Field-Tested | $4.82 |
| StatTrak Well-Worn | $4.67 |
| StatTrak Battle-Scarred | $4.57 |
Description
It has been painstakingly engraved.
The 'Glock-18 | Royal Legion' comes from the 'Royal Series' in CS:GO and CS2. This skin features ornate detailing, which resembles a coat of arms, setting it apart from more simplistic designs. Gold accents adorn the deep green background of the 'Royal Legion', giving this weapon a regal appearance. Due to the intricate design, it's favored by players seeking distinctive and unique skins. Its value in the trading market is stable, and demand tends to increase during royal-themed events or tournaments. The 'Royal Legion' is a symbol of prestige and is often associated with high-ranking players within the gaming community. This skin adds an element of exclusivity and sophistication to any player's collection, making it a popular choice among traders and players alike.
It was added to Counter-Strike: Global Offensive on 18 February 2016 as part of the The Wildfire Collection with the Operation Wildfire update.View Skin Workshop Submission
Glock-18 | Royal Legion skin float value ranges from 0.00 to 1.00 which makes it available in the following wear conditions: Factory New, Minimal Wear, Field-Tested, Well-Worn, Battle-Scarred.
Glock-18 | Royal Legion finish style is Gunsmith with finish catalog equal to 532. It's unique flavor text is: 'Naomi understands that one day she will die for Valeria'.
Glock-18 | Royal Legion is a fairly liquid item. It should be easy to sell or exchange it. Traders rates this skin at 4.09/5.0.
Buy on CS.TRADE
Buy or trade for Glock-18 | Royal Legion skins listed below on CS.TRADE trade bot.