Glock-18 | Red Tire
The 2021 Vertigo Collection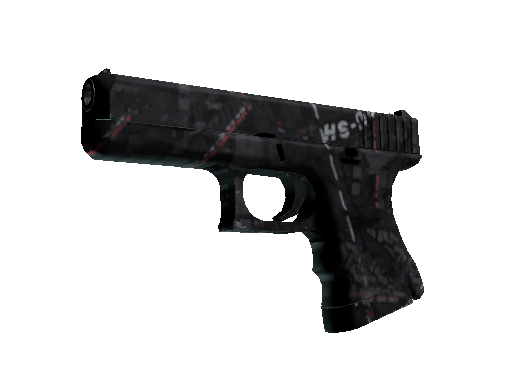 | Condition | Price |
| --- | --- |
| Factory New | $3.93 |
| Minimal Wear | $3.52 |
| Field-Tested | $3.02 |
| Well-Worn | $2.97 |
| Battle-Scarred | $3.07 |
| Souvenir Factory New | $2.59 |
| Souvenir Minimal Wear | $1.41 |
| Souvenir Field-Tested | $0.63 |
| Souvenir Well-Worn | $1.49 |
| Souvenir Battle-Scarred | $1.06 |
Description
It has been spray-painted with a black and red tire tread pattern.
The 'Glock-18 | Red Tire' is a skin with a unique, intricate design that sets it apart from the rest. The skin's pattern is composed of red and black tire marks imprinted on a white base, giving it a raw and rugged aesthetic. This skin, released in the 'Tire War' collection, symbolizes relentless movement and toughness. As one of the rarest Glock-18 skins available on the marketplace, it fetches a high value among traders. In the 2018 CS:GO tournament, the 'Red Tire' was a popular choice among top-tier players, leading to a surge in market demand and value.
It was added to Counter-Strike: Global Offensive on 22 September 2021 as part of the The 2021 Vertigo Collection with the Operation Riptide update.
Glock-18 | Red Tire skin float value ranges from 0.00 to 0.55 which makes it available in the following wear conditions: Factory New, Minimal Wear, Field-Tested, Well-Worn, Battle-Scarred.
Glock-18 | Red Tire finish style is Spray-Paint with finish catalog equal to 1079. It's unique flavor text is: 'Burn rubber'.
Glock-18 | Red Tire is a fairly liquid item. It should be easy to sell or exchange it. Traders rates this skin at 4.04/5.0.
Buy on CS.TRADE
Buy or trade for Glock-18 | Red Tire skins listed below on CS.TRADE trade bot.