Glock-18 | Ramese's Reach
The Anubis Collection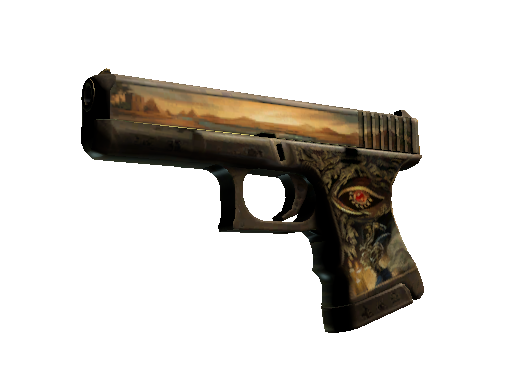 | Condition | Price |
| --- | --- |
| Factory New | $427.6 |
| Minimal Wear | $297.5 |
| Field-Tested | $202.9 |
| Well-Worn | $178.1 |
| Battle-Scarred | $150.9 |
| Souvenir Factory New | $211.32 |
| Souvenir Minimal Wear | $49.71 |
| Souvenir Field-Tested | $21.78 |
| Souvenir Well-Worn | $15.18 |
| Souvenir Battle-Scarred | $15.45 |
Description
The Nile river has been custom painted on the slide and the grip depicts Ramesses I, the founding pharaoh of ancient Egypt's 19th Dynasty.
The 'Glock-18 | Ramese's Reach' is one of the most distinctive Glock skins in both CS:GO and CS2. This skin, which is part of the 'Operation Broken Fang' collection, features a vivid, colorful pattern inspired by ancient Egyptian hieroglyphics. Since its release in 2020, the skin quickly gained popularity due to its unique, vibrant design and the influence of popular eSports player, 'Stewie2K' using it. The skin's rarity and the popularity of the 'Broken Fang' collection support a reasonably high market price, with Factory New conditions floating around the $5-$12 mark.
It was added to Counter-Strike: Global Offensive on 25 April 2023 as part of the Anubis Collection Package with the The Anubis Collection update. This skin was created by Valve.
Glock-18 | Ramese's Reach skin float value ranges from 0.00 to 1.00 which makes it available in the following wear conditions: Factory New, Minimal Wear, Field-Tested, Well-Worn, Battle-Scarred.
Glock-18 | Ramese's Reach finish style is Custom Paint Job with finish catalog equal to 1240. It's unique flavor text is: '"My people reach for their Gods, and I am here to connect them"'.
Glock-18 | Ramese's Reach is a fairly liquid item. It should be easy to sell or exchange it. Traders rates this skin at 4.87/5.0.
Buy on CS.TRADE
Buy or trade for Glock-18 | Ramese's Reach skins listed below on CS.TRADE trade bot.