Glock-18 | Oxide Blaze
The Danger Zone Collection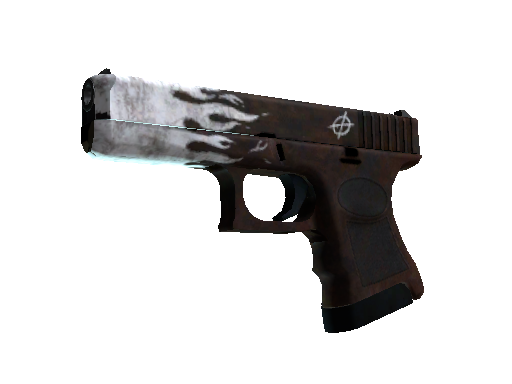 | Condition | Price |
| --- | --- |
| Factory New | $0.41 |
| Minimal Wear | $0.12 |
| Field-Tested | $0.08 |
| Well-Worn | $0.1 |
| Battle-Scarred | $0.08 |
| StatTrak Factory New | $2.23 |
| StatTrak Minimal Wear | $0.52 |
| StatTrak Field-Tested | $0.18 |
| StatTrak Well-Worn | $0.27 |
| StatTrak Battle-Scarred | $0.15 |
Description
A custom paint job has been applied with a rust-colored base and white detailing.
With its rustic and rugged design, the 'Glock-18 | Oxide Blaze' is a skin that captures the spirit of heated battlefields. It features a burnt orange and black color scheme, giving it a unique look compared to other Glock-18 skins. Introduced in the Danger Zone Collection of 2018, it has maintained a stable presence in the CS:GO and CS2 market. The Glock-18 is known for its spray pattern which is relatively easy for players to control. Oxide Blaze is not just a skin, it's a statement of style and skill. Traders have found its market value to be quite reliable, making it a popular trading choice.
It was added to Counter-Strike: Global Offensive on 6 December 2018 as part of the The Danger Zone Collection with the Welcome to the Danger Zone update.View Skin Workshop Submission
Glock-18 | Oxide Blaze skin float value ranges from 0.00 to 0.85 which makes it available in the following wear conditions: Factory New, Minimal Wear, Field-Tested, Well-Worn, Battle-Scarred.
Glock-18 | Oxide Blaze finish style is Custom Paint Job with finish catalog equal to 808. It's unique flavor text is: '"The subject claims this washed up on shore"'.
Glock-18 | Oxide Blaze is a fairly liquid item. It should be easy to sell or exchange it. Traders rates this skin at 4.00/5.0.
Buy on CS.TRADE
Buy or trade for Glock-18 | Oxide Blaze skins listed below on CS.TRADE trade bot.