Glock-18 | Nuclear Garden
The 2018 Nuke Collection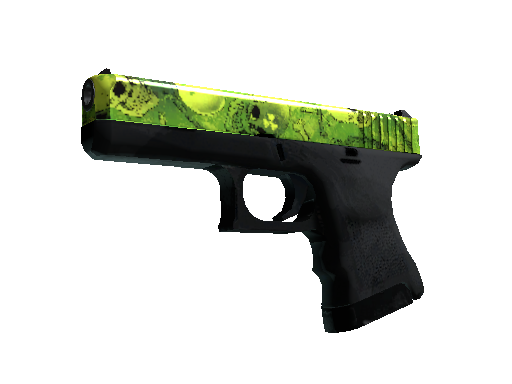 | Condition | Price |
| --- | --- |
| Factory New | $31.41 |
| Minimal Wear | $14.38 |
| Field-Tested | $7.03 |
| Well-Worn | $7.94 |
| Battle-Scarred | $5.07 |
| Souvenir Factory New | $144.67 |
| Souvenir Minimal Wear | $67.96 |
| Souvenir Field-Tested | $23.78 |
| Souvenir Well-Worn | $76.46 |
| Souvenir Battle-Scarred | $22 |
Description
The slide features a toxic, neon green pattern.
Introduced in 'The Nuke Collection,' the 'Glock-18 | Nuclear Garden' is a sought-after skin for the Glock-18 pistol in CS:GO and CS2. The skin features a nuclear-themed design, with biohazard symbols and a green radioactive-like glow, symbolizing danger and power. The design's uniqueness and the rarity of the skin contribute to its higher price in the market. This skin is a favorite among professional gamers and is frequently seen in prominent tournaments due to its striking design and association with power. It is also a popular choice among traders and collectors for its potential value and rarity.
It was added to Counter-Strike: Global Offensive on 1 September 2018 as part of the The 2018 Nuke Collection with the FACEIT 2018 – Ways to Watch update.
Glock-18 | Nuclear Garden skin float value ranges from 0.00 to 0.70 which makes it available in the following wear conditions: Factory New, Minimal Wear, Field-Tested, Well-Worn, Battle-Scarred.
Glock-18 | Nuclear Garden finish style is Anodized Multicolored with finish catalog equal to 789. It's unique flavor text is: 'A nuclear fission product'.
Glock-18 | Nuclear Garden is a fairly liquid item. It should be easy to sell or exchange it. Traders rates this skin at 4.31/5.0.
Buy on CS.TRADE
Buy or trade for Glock-18 | Nuclear Garden skins listed below on CS.TRADE trade bot.