Glock-18 | Moonrise
The Clutch Collection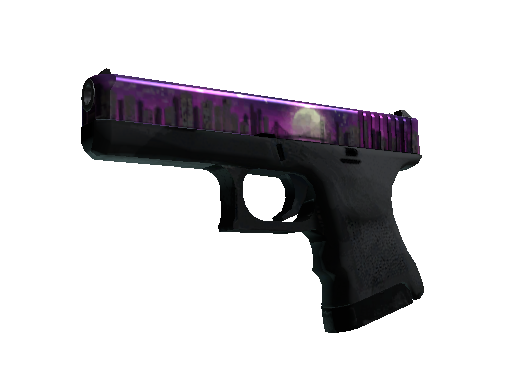 | Condition | Price |
| --- | --- |
| Factory New | $2.19 |
| Minimal Wear | $0.98 |
| Field-Tested | $0.47 |
| Well-Worn | $0.45 |
| Battle-Scarred | $0.41 |
| StatTrak Factory New | $6.36 |
| StatTrak Minimal Wear | $2.93 |
| StatTrak Field-Tested | $0.85 |
| StatTrak Well-Worn | $1.77 |
| StatTrak Battle-Scarred | $1.07 |
Description
A randomized city landscape in the foreground gives way to a full moon and purple night sky.
'Glock-18 | Moonrise' is a skin renowned for its impressively graphic design reminiscent of a city skyline against a night sky. The 'Moonrise' has a distinct look that sets it apart within the vast array of weapon skins available in CS:GO and CS2. The dark canvas of the weapon is contrasted with a luminescent depiction of a city skyline, complemented by an iridescent moon and starry sky. This skin's intricate design and detail have earned it a loyal following of players. It's often used in night-themed gameplay, enhancing the immersive experience for players. The 'Moonrise' skin is also a popular choice among traders, who appreciate its steady value in the market. Due to its high demand, this skin often features in trades, contributing to its stable value.
It was added to Counter-Strike: Global Offensive on 16 February 2018 as part of the The Clutch Collection with the Welcome to the Clutch update.View Skin Workshop Submission
Glock-18 | Moonrise skin float value ranges from 0.00 to 0.65 which makes it available in the following wear conditions: Factory New, Minimal Wear, Field-Tested, Well-Worn, Battle-Scarred.
Glock-18 | Moonrise finish style is Anodized Airbrushed with finish catalog equal to 694. It's unique flavor text is: 'Look for the North Star'.
Glock-18 | Moonrise is one of the most liquid items. There are no problems selling and trading it. Traders rates this skin at 4.52/5.0.
Buy on CS.TRADE
Buy or trade for Glock-18 | Moonrise skins listed below on CS.TRADE trade bot.