Glock-18 | Groundwater
The Mirage Collection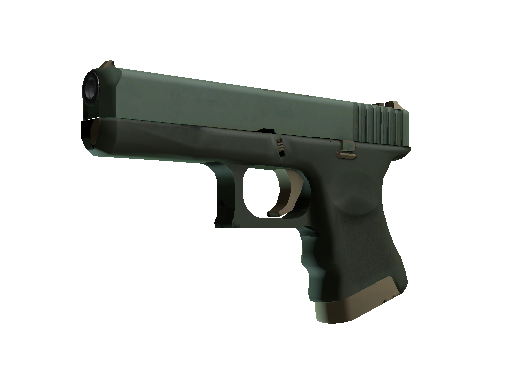 | Condition | Price |
| --- | --- |
| Factory New | $64.09 |
| Minimal Wear | $10.61 |
| Field-Tested | $9.77 |
| Well-Worn | $7.68 |
| Battle-Scarred | $9.03 |
| Souvenir Factory New | $71.98 |
| Souvenir Minimal Wear | $11.01 |
| Souvenir Field-Tested | $4.6 |
| Souvenir Well-Worn | $4.95 |
| Souvenir Battle-Scarred | $4.17 |
Description
It has individual parts spray-painted solid colors in an olive drab color scheme.
The 'Glock-18 | Groundwater' skin is a classic choice for CS:GO enthusiasts. Hailing from the 'Dust Collection', its design is reminiscent of the game's rugged warfare environment. The skin's splotchy pattern and muted color palette reflect a battlefield after rain, adding an element of realism and immersion for players. Its steady demand and market value make it a beneficial asset for traders. This timeless addition to the CS:GO universe is loved for its simplicity and raw design. The 'Glock-18 | Groundwater' brings a slice of the battleground's reality to every player's arsenal.
It was added to Counter-Strike: Global Offensive on 27 November 2013 as part of the The Mirage Collection with the Out with the old, in with the new update. This skin was created by Valve.
Glock-18 | Groundwater skin float value ranges from 0.06 to 0.80 which makes it available in the following wear conditions: Factory New, Minimal Wear, Field-Tested, Well-Worn, Battle-Scarred.
Glock-18 | Groundwater finish style is Solid Color.
Glock-18 | Groundwater is an item of average liquidity. It may take some time to sell or trade it. Traders rates this skin at 3.64/5.0.
Buy on CS.TRADE
Buy or trade for Glock-18 | Groundwater skins listed below on CS.TRADE trade bot.