Glock-18 | Grinder
The Vanguard Collection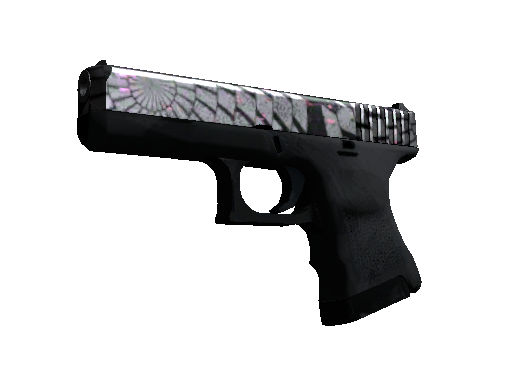 | Condition | Price |
| --- | --- |
| Factory New | $3.32 |
| Minimal Wear | $2.16 |
| Field-Tested | $2.25 |
| StatTrak Factory New | $11.59 |
| StatTrak Minimal Wear | $8.03 |
| StatTrak Field-Tested | $8.01 |
Description
The steel slide has been painted using a combination of stenciling and hand-painting using oil paints.
The 'Glock-18 | Grinder' is a highly sought after skin in both CS:GO and CS2, featuring a unique pattern that resembles a mechanical grinder. Part of the 'Arms Deal 3' collection, its popularity stems from its scarce drop rate and the randomized grinder texture that can make each individual skin unique. It was first introduced into the marketplace in 2014, and since then, its price has fluctuated heavily along with its demand. A Factory New condition 'Glock-18 | Grinder' can range anywhere from $2 to $10. Successful traders who've managed to sell High-Float versions have done well, leveraging the rarity of the skin. A favorite among players, the 'Grinder' adds a tactical and robust aesthetic to the Glock-18, enhancing the in-game experience.
It was added to Counter-Strike: Global Offensive on 11 November 2014 as part of the The Vanguard Collection with the Operation Vanguard update.View Skin Workshop Submission
Glock-18 | Grinder skin float value ranges from 0.02 to 0.25 which makes it available in the following wear conditions: Factory New, Minimal Wear, Field-Tested.
Glock-18 | Grinder finish style is Patina with finish catalog equal to 381. It's unique flavor text is: 'The only way to make diamonds is by applying pressure'.
Glock-18 | Grinder is a fairly liquid item. It should be easy to sell or exchange it. Traders rates this skin at 4.03/5.0.
Buy on CS.TRADE
Buy or trade for Glock-18 | Grinder skins listed below on CS.TRADE trade bot.