Glock-18 | Franklin
The Havoc Collection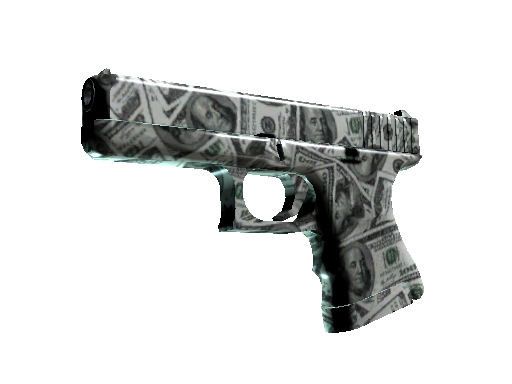 | Condition | Price |
| --- | --- |
| Factory New | $56.93 |
| Minimal Wear | $48.2 |
| Field-Tested | $50.23 |
| Well-Worn | $40.09 |
Description
It has been painted using a hydrographic of American hundred-dollar bills.
The 'Glock-18 | Franklin' is one of the classic skins in the CS:GO game. It was introduced in the 'Bank Collection' in 2014, during the operation breakout update. The skin features a premium design featuring a print of the USD100 bill and Benjamin Franklin's portrait on the slide. The handle of the weapon is also textured with dollar symbols, giving the skin its signature look. The skin has a medium price in the game's market, reaching peaks during the operation breakout. The 'Glock-18 | Franklin' is popular among traders for its value and unique design. It is also frequently used in professional matches and tournaments due to its high visibility. Hence, it can be a valuable addition to any player's inventory.
It was added to Counter-Strike: Global Offensive on 3 December 2020 as part of the The Havoc Collection with the Operation Broken Fang update.
Glock-18 | Franklin skin float value ranges from 0.00 to 0.40 which makes it available in the following wear conditions: Factory New, Minimal Wear, Field-Tested, Well-Worn.
Glock-18 | Franklin finish style is Custom Paint Job with finish catalog equal to 1016. It's unique flavor text is: 'Money doesn't talk... it kills'.
Glock-18 | Franklin is a fairly liquid item. It should be easy to sell or exchange it. Traders rates this skin at 4.57/5.0.
Buy on CS.TRADE
Buy or trade for Glock-18 | Franklin skins listed below on CS.TRADE trade bot.