Glock-18 | Dragon Tattoo
The Arms Deal Collection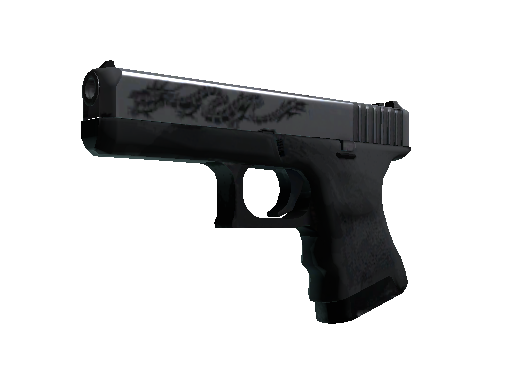 | Condition | Price |
| --- | --- |
| Factory New | $126.68 |
| Minimal Wear | $111.95 |
| StatTrak Factory New | $404.2 |
| StatTrak Minimal Wear | $240.47 |
Description
It has been painted using a dragon decal over a metallic base coat.
With a design heavily influenced by Asian culture, the 'Glock-18 | Dragon Tattoo' is a minimalist yet attractive skin. Offered in the 'Arms Deal 2' collection in 2013, the skin features a fiery dragon design etched onto a black canvas, symbolizing power and resilience. This design appealed to several professional players in the eSports scene during the 2013 CS:GO Major, where teams such as 'Ninjas in Pyjamas' and 'Team VeryGames' battled for supremacy. As a result, the skin's value has remained stable with Factory New condition skins being traded for $10-$15.
It was added to Counter-Strike: Global Offensive on 14 August 2013 as part of the The Arms Deal Collection with the The Arms Deal update. This skin was created by Valve.
Glock-18 | Dragon Tattoo skin float value ranges from 0.00 to 0.08 which makes it available in the following wear conditions: Factory New, Minimal Wear.
Glock-18 | Dragon Tattoo finish style is Anodized Multicolored with finish catalog equal to 48. It's unique flavor text is: 'In a fairy tale the knight always slays the dragon... but this is the real world - Valeria Jenner, Revolutionary'.
Glock-18 | Dragon Tattoo is a fairly liquid item. It should be easy to sell or exchange it. Traders rates this skin at 4.75/5.0.
Buy on CS.TRADE
Buy or trade for Glock-18 | Dragon Tattoo skins listed below on CS.TRADE trade bot.