Glock-18 | Death Rattle
The Bank Collection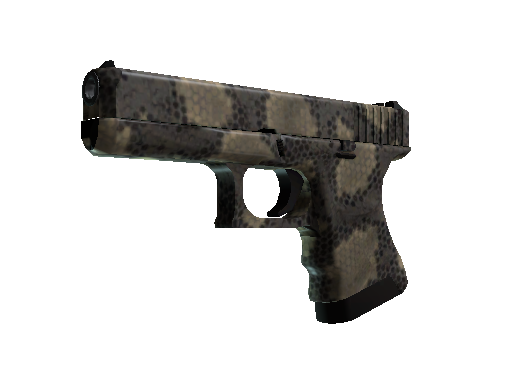 | Condition | Price |
| --- | --- |
| Minimal Wear | $0.19 |
| Field-Tested | $0.14 |
| Well-Worn | $0.11 |
| Battle-Scarred | $0.1 |
Description
It has been painted with a snakeskin patterned hydrographic.
The 'Glock-18 | Death Rattle' skin is a striking representation of mortality and danger. Featured in the 'Lake Collection', it has become an emblematic death symbol in CS:GO. The skin, decorated with images of skulls and crossbones, serves as a brilliant reminder of the imminent threats lurking in every corner of the game. This skin, particularly sought after by players looking to project an intimidating image, has stable market value and is considered a solid acquisition for traders and collectors. With its eye-catching design and impactful symbolism, the 'Glock-18 | Death Rattle' is not only a player's weapon but also a statement of their fearless approach to the game.
It was added to Counter-Strike: Global Offensive on 1 May 2014 as part of the The Bank Collection with the The Hunt Begins update. This skin was created by Valve.
Glock-18 | Death Rattle skin float value ranges from 0.08 to 0.50 which makes it available in the following wear conditions: Minimal Wear, Field-Tested, Well-Worn, Battle-Scarred.
Glock-18 | Death Rattle finish style is Hydrographic with finish catalog equal to 293. It's unique flavor text is: 'I know you don't believe in the cause...and when I expose you, Valeria will have your head - The Shield and The Serpent Part 1'.
Glock-18 | Death Rattle is a fairly liquid item. It should be easy to sell or exchange it. Traders rates this skin at 4.00/5.0.
Buy on CS.TRADE
Buy or trade for Glock-18 | Death Rattle skins listed below on CS.TRADE trade bot.