Glock-18 | Clear Polymer
The Snakebite Collection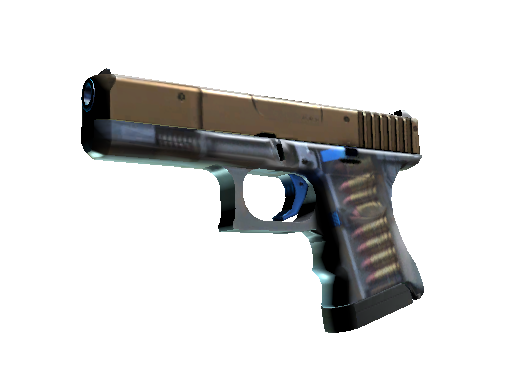 | Condition | Price |
| --- | --- |
| Factory New | $0.66 |
| Minimal Wear | $0.18 |
| Field-Tested | $0.14 |
| Well-Worn | $0.14 |
| Battle-Scarred | $0.13 |
| StatTrak Factory New | $3.89 |
| StatTrak Minimal Wear | $0.7 |
| StatTrak Field-Tested | $0.41 |
| StatTrak Well-Worn | $0.37 |
| StatTrak Battle-Scarred | $0.37 |
Description
It has been painted with a tan slide and blue trigger. The frame is made of a clear polymer.
The 'Glock-18 | Clear Polymer' is a unique skin characterized by its simplistic yet elegant design. The body of the gun is largely transparent, showcasing the inner mechanisms of the pistol that strikes a balance between reality and art design. Being a Glock-18 skin, it carries with it the features of Glock-18's performance in the game. The Clear Polymer skin entered the CS:GO and CS2 scene in the Prisma 2 Collection of 2020. Since its release, this skin has attracted the interest of many players for its uncommon design. It's worth noting that its market price can fluctuate, so traders should pay close attention.
It was added to Counter-Strike: Global Offensive on 3 May 2021 as part of the The Snakebite Collection with the The End of Broken Fang update.View Skin Workshop Submission
Glock-18 | Clear Polymer skin float value ranges from 0.00 to 1.00 which makes it available in the following wear conditions: Factory New, Minimal Wear, Field-Tested, Well-Worn, Battle-Scarred.
Glock-18 | Clear Polymer finish style is Gunsmith with finish catalog equal to 1039. It's unique flavor text is: 'What you see is what you get'.
Glock-18 | Clear Polymer is a fairly liquid item. It should be easy to sell or exchange it. Traders rates this skin at 4.01/5.0.
Buy on CS.TRADE
Buy or trade for Glock-18 | Clear Polymer skins listed below on CS.TRADE trade bot.